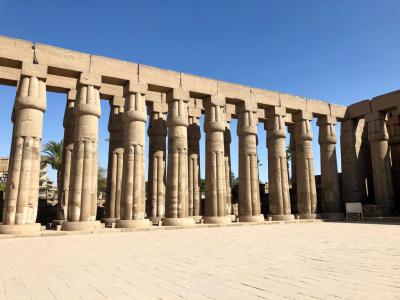 Temple of Amenhotep III, Luxor
The Temple of Amenhotep III was the largest and most opulent in Egypt in its heyday. Originally around 35 hectares in size it stretches back from the Colossi of Memnon back to the Antiquities Inspectorate. The Temple of Amenhotep III was the site of a huge cult honoring the pharaoh and worshipping him as a living god. Unfortunately, the land that the temple was built on was prone to flooding from the Nile River and this caused its rapid decay. It is thought that the flooding of the Nile was used as an engineering tool to cause the inundation of the eastern courts of the site at certain times of the year to spectacular effect.

Until recently, all that remained of the vast mortuary temple were the colossi – a giant pair of statues that served as the entrance. Excavations of the site have now revealed the pillars and general lay out of the site. Archaeologists have now uncovered several halls and constructions that are being excavated. These projects have also revealed invaluable artifacts such as a headless sphinx statue of Queen Tiye, Amenhotep's wife, jackal statues and Osirid statues of the pharaoh. Around the base of many of the discovered statues is information about battles and captives that has provided important information about the reign of Amenhotep III.
Temple of Amenhotep III on Map
Walking Tours in Luxor, Egypt