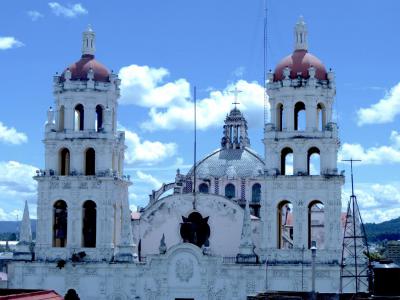 Templo de la Compañia de Jesús (Temple of the Holy Spirit), Puebla
The Temple of the Holy Spirit (Templo de la Compania de Jesus) is a historical monument and religious temple. It is part of the Archdiocese of Puebla de los Angeles.

The temple was founded by a Spanish merchant Melchior de Covarrubias in the late 16th century. Its first stage of construction was completed in 1600. The second stage of construction took place between 1746 and 1767. It was designed in the Baroque architectural style.

The gilder and architect Diego Marin was hired in the late 17th century to whitewash the building and decorate its vaults with plaster and gold. Sadly, this work did not survive when architect Jose Miguel de Santa Maria replaced the towers with even more ornate, Baroque towers. They are built of stone and mortar with plaster decoration.

Large, 17th-century canvases painted by artist Jose Rodriguez Carnero can be found inside the temple. Statues of Jesuit saints were added in the 19th century. These saint are San Ignacio de Loyola, San Francisco Javier, San Luis Gonzaga and San Juan Berchmans.

The Temple of the Holy Spirit is often referred to as the Temple of the Company (Templo de la Compania ) since it was founded by Jesuits who belonged to the Society of Jesus.
Templo de la Compañia de Jesús (Temple of the Holy Spirit) on Map
Walking Tours in Puebla, Mexico