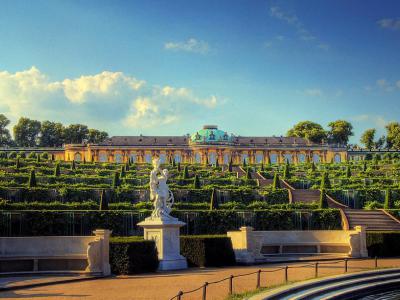 Terraced Gardens, Potsdam
(must see)
The Terraced Gardens are an impressive part of the Sanssouci Palace. This location was previously a wooded vista. However, Frederick William I wanted to transform the area. In 1744, the hillside was changed into six terraces.

The terraces feature convex centers that maximize sunlight. One hundred sixty-eight glazed niches are featured among the wall's brickwork.

Trellised vines were planted in front of the bricks, and figs were planted in the niches. The terraces also have strips of lawn with yew trees. The gardens feature a circular ornamental parterre created with trellised fruit hedging. One hundred and thirty-two steps lead downward and divide the terraces.

Below the terraces, visitors will find a beautiful ornamental garden. The "Great Fountain" was built in 1748. Then, in 1750, marble statues were added around the fountain. This idea was copied from Versailles and the French King Louis XV gifted several statues, including Venus and Mercury. The other statues represent Apollo, Diana, Jupiter, Mars, Juno, and Minerva.
Walking Tours in Potsdam, Germany