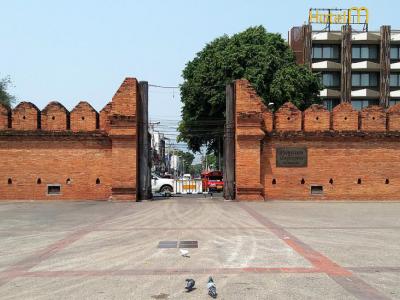 Tha Pae Gate, Chiang Mai
The Tha Pae Gate is the entrance to the old walled city of Chiang Mai. It is a landmark structure and the venue of many public gatherings and religious processions all year round.

The Tha Pae Gate was built in 1296 during the reign of King Mengrai, the founder of the city of Chiang Mai. The eight main gates of the old city face a specific direction according to the eight compass points and each has an astrological faculty. The Tha Pae Gate faces east and has the astrological faculty of Mula or prosperity. Historically, it was the main gate that visiting monks, traders and diplomats had to pass to reach Chiang Mai.

Some important annual events that take place near Tha Pae gate are the annual Flower Carnival in February, the Songkarn or the Thai New year celebrations in April and the Loy Krathong festival. It is also a meeting point for rural people and the city folk. On Saturday nights a live band performs at the permanent stage on the square in front of Tha Pae Gate. Many stalls that form part of the walking street- Ratchadamnoen Road Sunday market are set up near the gate and stalls selling local delicacies provide food and drink for the hungry visitor.
Walking Tours in Chiang Mai, Thailand