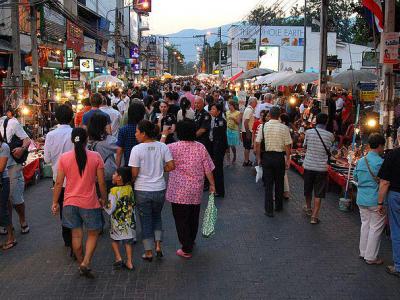 Tha Pae Road, Chiang Mai
The shopping street between Chiang Mai's Narawat Bridge and Tha Pae Gate is filled with exciting and unique finds. You'll find rare antiques, gorgeous textiles, and traditional clothing. Orchids and flowers add to the vibrancy of this shopping street.

Tha Pae Road closes to street traffic at 4:00 pm every Sunday. The street transforms into a busy night market. You'll find hundreds of stalls offering street food, souvenirs, textiles, clothes, and trinkets. Search for your favorite handicraft; friendly bargaining is acceptable. You might find the perfect silk scarf, spice collection, wooden carving, or gold Buddha image.

The temples along the road become delectable food courts. Try everything from deep-fried crickets to pancakes on sticks, to mango sticky rice, to fresh juice.

Artists can draw a street portrait or caricature for a unique souvenir. Stages are set up, and locals partake in dance recitals and performance arts while musicians entertain along the way.

When you're feet get tired, it's time to take a break and refresh yourself with a fresh juice and a foot massage.

While the shopping is fantastic, you'll also love the immersive cultural experience as locals and tourists come together to enjoy shopping, haggling, and tasty treats.
Walking Tours in Chiang Mai, Thailand