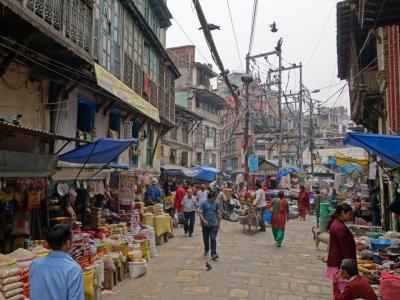 Thamel Bazar, Kathmandu
Thamel Bazar is a shopping area in the Thamel neighborhood of Kathmandu. It is a popular tourist area due to the prevalence of artists who have spent many years occupying the area.

The center of the tourist industry, the Thamel occupies several narrow streets and alleys. Vendors and shops line the streets selling their wares to tourists and locals. Some products available at Thamel Bazar are fresh fruits and vegetables, pastries, handicrafts, souvenirs, and textiles.

Those who wish to stop and eat will find stands that sell freshly made food. Numerous restaurants and cafes selling traditional Nepali cuisine are also nearby.

Along with the local vendors, there are also a variety of pubs, clubs, and small grocery stores scattered throughout the neighborhood. Most shops are open from 9 AM to 10 PM, but the activity does not stop when the shops close. Thamel is known for its nightlife; the clubs often stay open well past midnight.
Walking Tours in Kathmandu, Nepal