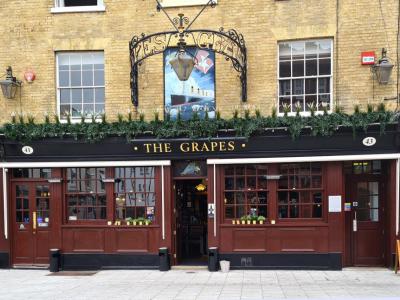 The Grapes Public House, Southampton
The Grapes was a pub near Dock Gate 4 where Titanic was moored. It's located on Oxford Street in the Hampshire part of town.

It was often the tradition for many of the ship's crew members to meet for one last drink ashore before they sailed. Many of Titanic's firemen and trimmers made arrangements to meet at The Grapes.

Today a mural and memorial to the ill-fated ocean liner are displayed on the pub's wall over its entrance. The pub is also decorated with plenty of memorabilia and pictures relating to the ship, the crew, and the tragedy.

The Grapes' building was built in the early 19th century. The building extends over three stories. It features a pool room, live music, and a bar with national and regional ales. While the pub embraces its historical connection to seafarers, today, the operation has a "modern cosmopolitan feel."
The Grapes Public House on Map
Walking Tours in Southampton, England