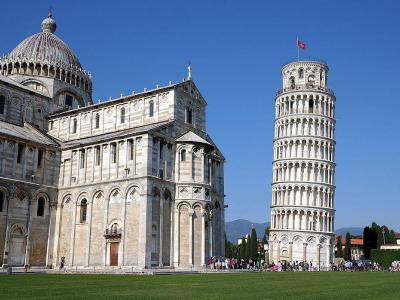 The Leaning Tower, Pisa
(must see)
The Leaning Tower of Pisa is the most famous freestanding bell tower in the world. It was built between 1173 and 1372 as a companion to the Pisa Cathedral.

The ground floor features a blind arcade with Corinthian columns. The second floor was added in 1178, and the tower began to sink in the soft, sandy soil. Construction was then halted for almost a century as the Republic of Pisa engaged in battles with their neighbors.

Construction restarted in 1272, and the upper floors were built with one side taller than the other to compensate for the already leaning tower. Finally, in 1319, the seventh floor was completed, and the bell tower was added in 1372.

Between 1589 and 1592, Galileo Galilei (then professor of mathematics at the University of Pisa) dropped two spheres of different masses from the Leaning Tower of Pisa to demonstrate that their time of descent was independent of their mass. Galileo discovered through this experiment that the objects fell with the same acceleration, proving his prediction true, while at the same time disproving Aristotle's theory of gravity which states that objects fall at speed proportional to their mass.

The tower has impressively survived at least four major earthquakes. The combination of the height of the tower and the soft soil helped it resist earthquake damage.

In more recent years, efforts have been made to stabilize the tower, stop it from toppling over, and keep this historic building intact as a Pisa landmark. The tower was closed from 1990-2001 to effect this stabilization. At that time, the tower was leaning at a 5.5-degree angle (4.5 meters or 15 feet).

In 1990, the bells were removed to take away some of the weight of the building. Cables were added to the third level and anchored hundreds of meters away. Counterweights were added in 1993 to keep the tower from toppling over. Engineers worked to reduce the tilt by shifting soil from underneath the tower. The tilt was reduced by 45 centimeters and matched the 1838 tilt level.

The structural interventions were so successful that the tower has been stable, and no additional leaning has occurred.

The Leaning Tower now leans by 3.97 degrees, or 3.9 meters (12 ft 10 inches). The original height of the tower was 60 meters. Today it is 56.67 meters on the high side and 55.86 meters on the low side.

Why You Should Visit

No visit to Pisa is complete without seeing this iconic landmark in person. Don't forget your camera for cheesy "holding up the tower" photos and the view from the top.

Tips

Visitors can climb the 251 steps and enjoy the fantastic views from the top. Children under eight are not permitted to climb. It's advisable to buy tickets in advance to this busy and popular attraction.
Walking Tours in Pisa, Italy