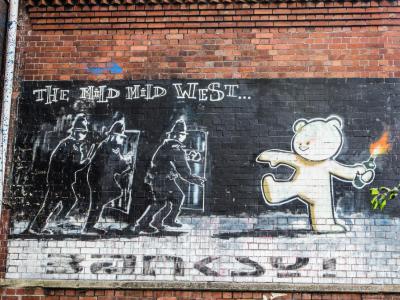 The Mild Mild West, Bristol
Perhaps the most well-known piece of street art in Bristol, The Mild Mild West is a mural by Banksy, sited on No. 80 Stokes Croft. It depicts a comic teddy bear throwing a petrol bomb at three cowering policemen.

Banksy drew it over three days in broad daylight in 1999 in response to various unlicensed raves and parties held in abandoned warehouses around Bristol in the 1990s, that drew increased attention from the police. A specific trigger for the mural was such an event at Winterstoke Road, where riot police began to attack party-goers.

This artwork is popular with the local community who consider it a good symbol of the heritage around Stokes Croft. It has been cited as an archetypal piece of Bristol culture, perfectly summing up the local spirit: open and friendly like teddy bears, unless threatened and therefore having to defend themselves with Molotov cocktails.
The Mild Mild West on Map
Walking Tours in Bristol, England