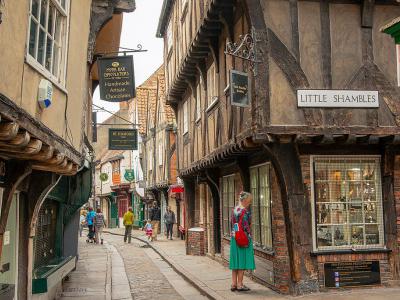 The Shambles, York
(must see)
The Shambles is a historic street. Shambles refers to a meat market, and several streets with butcher shops are named The Shambles. Butcher stalls in this area were named in the 1086 Doomsday Book. The oldest buildings that line The Shambles today were built in the 14th century, and most were built by 1475. By 1426 the street was known as the Great Flesh Shambles, and later the street name was shortened to The Shambles.

Slaughterhouses were set up at the back of the butcher shops. The pavements were raised on the cobblestone street to allow easier cleaning of blood.

This narrow street features overhanging buildings, and some areas are so skinny that visitors can touch both sides of the street at once. The overhanging buildings would have sheltered the walls below and protected the display meat from the sun.

Visitors will find a shrine to Saint Margaret Clitherow on this street. Known as the "Pearl of York," she was martyred in 1586 for refusing to enter a plea to the charge of harboring Catholic priests. Saint Margaret Clitherow was married to a butcher and lived on The Shambles.

Butchers no longer line The Shambles, but several buildings still display meat hooks and meat shelves on display. Today's shops include restaurants, a bakery, and a bookshop.

Shambles Market runs daily between The Shambles and Parliament Street.

Why You Should Visit

The Shambles is known as one of the best-preserved medieval streets in England. While fans believe it may have been the inspiration for Harry Potter's Diagon Alley, author J.K Rowling has denied these rumors. Regardless, the charming narrow street will transport visitors back in time.

Tips

Visitors will also love exploring the five snickelways that lead off The Shambles. These snickelways are narrow alleys that connect to other streets.
Walking Tours in York, England