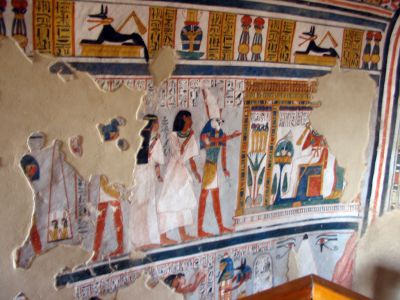 Tombs of Roy and Shu Roy, Luxor
The tombs of Roy and Shu Roy are valuable to archaeologists as they depict life in the nobility and artisanal classes of ancient Egypt. The Tomb of Roy is the resting place for an 18th dynasty royal scribe who also acted as steward for the estates of Haremhab. This small tomb reveals startlingly detailed and colorful murals depicting all aspects of life at the time. Some of the notable scenes show harvest time and funeral processions. A theory espouses that the Tomb of Roy may have been prepared in advance by entrepreneurial souls and sold as a generic tomb that was later embellished with details of the person's life.

The Tomb of Shu Roy follows a standard T-shaped plan and in certain sections there are startlingly well-preserved reliefs. Some of the wall paintings feature colorful geometric designs and others show scenes from daily life and Shu Roy and his wife praying. It is known that Shu Roy was "Brazier Carrier of Amun" and his wife was "Chantress of Amun" during Ramesside Times, but beyond that nothing concrete is known of them. The lack of information surrounding Shu Roy and his wife is precisely what makes visiting the tomb tantalizing – you may just find a clue in the hieroglyphics that could unlock their past lives.
Tombs of Roy and Shu Roy on Map
Walking Tours in Luxor, Egypt