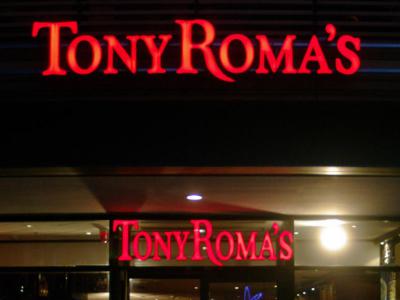 Tony Roma's, Las Vegas
Other than the great food, this chain rib joint made history back in the early 1980s as the place where the longtime maxim that the mob never carried out a hit in Las Vegas, especially in public, was broken. Normally, they took care of this side of "business" out in the desert, miles away from the city. But rules get broken from time to time, and it sure did happen here on the night of October 4, 1982 when Lefty Rosenthal, a longtime secret manager of the mob-controlled Stardust Hotel, had his Cadillac El Dorado blown up in the parking lot outside Tony Roma's.

As Rosenthal got in, put the key in the ignition and turned it – Boom! The car was turned into a twisted hunk of charred metal, but miraculously, Rosenthal himself got away pretty much unscathed, save a few minor burns. True to the mob's code, he didn't cooperate with the police investigation. The actual scene was depicted in the 1995 "Casino" movie, starring Robert DeNiro.

Tony Roma's closed the outlet in 2014, and the building sat vacant until Larry Flynt, president of Larry Flynt Publications, turned it into an adult store, Hustler Hollywood.
Walking Tours in Las Vegas, Nevada
Useful Travel Guides for Planning Your Trip
---