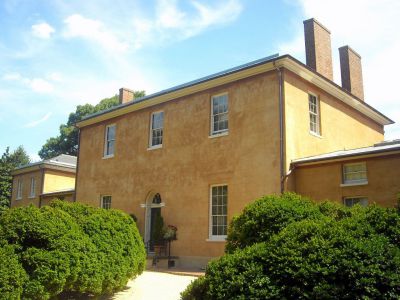 Tudor Place, Washington D.C.
Tudor Place stands as one of the prominent mansions from the Federal era in the United States. It was designed by William Thornton, the architect responsible for the U.S. Capitol. Construction of the house commenced around 1794 and concluded approximately in 1815.

The house was owned by Thomas Peter and his wife, Martha Parke Custis Peter, who had significant ties to the Washington, Custis, and Lee families. Thomas Peter served as the mayor of Georgetown from 1789 to 1798, and Martha Parke Custis was the granddaughter of Martha Washington. After Mrs. Washington's passing, the Peter family inherited a considerable number of enslaved individuals from Mount Vernon. They continued to hold these individuals in bondage for many years, and some were only freed as a result of the Civil War.

The house is situated atop a hill within an extensive estate featuring lawns and gardens. While the north-facing side of the structure is notably unadorned, the south-facing elevation, which overlooks Georgetown, is a striking example of Regency design. The main house comprises end pavilions connected by loggias, stuccoed brick facades with minimal ornamentation, and Tuscan columns. The building boasts an unconventional floor plan but boasts fine interior detailing.

A highlight of Tudor Place is its collection of over 100 items that once belonged to George and Martha Washington. Enriched by 180 years of ownership by the Peter family, both the residence and the gardens offer a unique window into American cultural and social history. In 1960, the site was designated as a National Historic Landmark and is now accessible to the public.

Opening Hours:
Tuesday - Saturday: 10:00 am - 4:00 pm, Sunday: 12:00 - 4:00 pm; Monday: Closed.
Walking Tours in Washington D.C., USA
Useful Travel Guides for Planning Your Trip
---