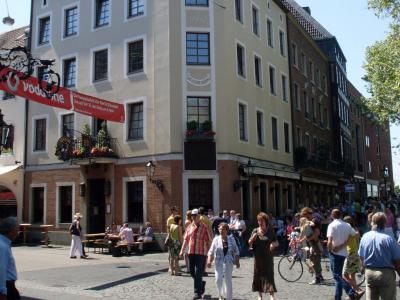 Uerige Brewery, Dusseldorf
Uerige Brewery is a brewpub in the old town region of Duesseldorf. The earliest record of an establishment on the site appeared in 1632. At that time, the location was run by a baker, Martin Putz, and an innkeeper, Dietrich Pfielsticker.

Uerige didn't become a brewery until 1862 when Hubert Wilhelm Curten bought and expanded the building. The expansion included narrow hallways, strange niches and haphazard additions that have given the brewery a unique appearance. It was Curten's proprietorship that also led to the naming of Uerige Brewery. In German, the word "uerige" means "grouch," which was a nickname bestowed upon the reportedly bad-tempered Curten.

The brewery was damaged during World War II but has been completely restored. It continues to use the gravity dispensing method from wooden casks for pouring its draught beers. The brewery is open to the public from 10 am to midnight seven days per week. Those above age 16 are welcome to enjoy the distilled beer and whiskey.
Walking Tours in Dusseldorf, Germany