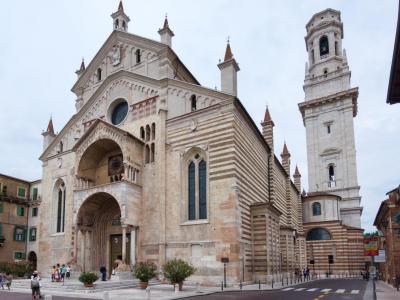 Verona Cathedral, Verona
(must see)
The Verona Cathedral is dedicated to the Blessed Virgin Mary. It was built after the previous churches on this site were destroyed. The Romanesque style Verona Cathedral was consecrated in 1187.

The west facade features a double porch, Lombard bands, and small pinnacles.

Artist Maestro Nicolo sculpted the west portal in 1139. The porch features the reliefs of Saint John, the Evangelist and Saint John the Baptist. Depictions of Orlando and Uliveriero guard the entrance. Ten prophets holding scrolls stand by the doors. The tympanum features the Virgin and Child and the Adoration of the Magi, and the Adoration of the Shepherds.

Peregrinus carved the south portal in the 12th century. Sculptures show the story of Jonah. The campanile is a mix of styles, from 16th century to 20th century.

The interior was renovated in the 15th century. Red Verona marble pilasters support Gothic arches. There are several side chapels, the main chapel, and an impressive library. The west bays feature frescoes created by Giovanni Maria Falconetto in 1503.

One of the chapels features an Assumption of the Virgin by Titian. The sanctuary features a Crucifixion scene by Giambattista da Verona in 1534.

The Chapter Library of Verona Cathedral has been called "the Queen of ecclesiastical collections." This library has ancient and unique texts, including the Leonine Sacramentary, the oldest surviving text of the Roman Rite, several ancient codices from early church history, and ancient Roman works.

Ruins of the earlier cathedrals can be seen from the Canons' Cloister.

Tip:
Do visit the beautiful Baptistery of Saint Giovanni in Fonte at the back of the Cathedral complex, with a huge octagonal baptismal font covered in scenes from the Bible. The excavation area showing the old Roman remains is also interesting, and there are good explanations in the audio guide.
Walking Tours in Verona, Italy