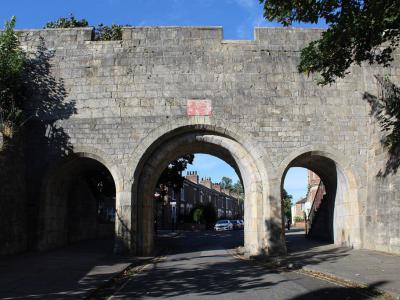 Victoria Bar, York
Victoria Bar is the smallest gateway in the Walls of York. Just like Fishergate Bar, it is one of the "minor" Bars.

As the name suggests, Victoria Bar dates from the 19th century. This secondary gateway was opened in 1838 to provide access between Nunnery Lane and Bishophill. It was done in order to ease traffic through the nearby Micklegate Bar, which by that time had been the main entrance to (exit from) the city and therefore heavily congested.

The gate consists of a central archway with two flanking pedestrian arches, created in 1864 and 1867. It was built on top of a much older, 12th century gateway, the splinters of which were found during the construction.

The ancient structure was likely to be the one known as Lounelith, which means 'the lonely' or 'secluded' gateway. Archaeologists traced the historical records and determined that it had perhaps served as a small entrance to the city in medieval times and, at some point, was filled in with earth and stone, presumably to strengthen the city's defences.
Walking Tours in York, England