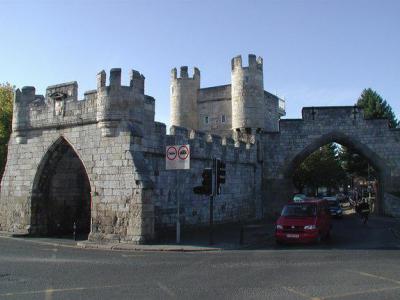 Walmgate Bar, York
Most of Walmgate Bar was built during the 14th century, although the inner gateway dates from the 12th century. It was originally called Walbegate, the word Walbe possibly being an Anglo-Scandinavian personal name. The Bar's most notable feature is its barbican, which is the only one surviving on a town gate in England. It also retains its portcullis and has reproduction 15th-century oak doors. On the inner side, an Elizabethan house, supported by stone Tuscan order columns (originally of Roman origin but modified in 1584), extends out over the gateway. The house was occupied until 1957.

The Bar has been repaired and restored many times over the years, most notably in 1648, following the 1644 Siege of York in the English Civil War when it was bombarded by cannon fire, and in 1840 after it had suffered years of neglect. It was also damaged in 1489 when, along with Fishergate Bar, it was burnt by rebels who were rioting over tax raises.

Tip:
Make sure to stop by Gatehouse Coffee which is set in the gatehouse and makes full use of the space, including the outside space on the Bar. Fantastic spot to break up a walk around the City Walls and brilliant cakes!
Sight description based on Wikipedia.
Walking Tours in York, England