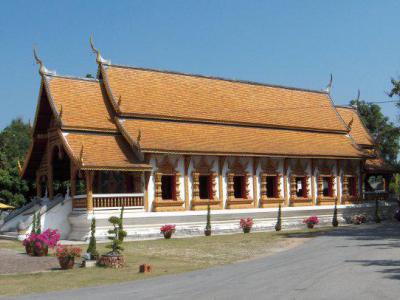 Wat Chedi Liam, Chiang Mai
The Wat Chedi Liam is an ancient temple located in the city of Wiang Kum Kam that lies within the city limits of Chiang Mai. Its original name was Wat Kum Kam.

The Wat Chedi Liam was built by King Mengrai in 1287 at his capital cityat the time, Wiang Kum Kam. He later built Chiang Mai and shifted his capital. It remained an important temple even after the new city was built. It was abandoned after the Burmese invasion. In 1908, it was extensively renovated by a wealthy Burmese trader. In 1992, the temple was extensively renovated once again.

The Wat Chedi Liam has an early Mon Haripunchai design. It has five tiers that rise in the form of a pyramid. There are 60 niches with statues of the standing Buddha. They are said to commemorate the 60 wives of King Mengrai. The decorations of the exterior and interior of the main prayer hall have been carefully preserved. In 1908, a Burmese style spire was added and a Burmese chinthe was placed at each of the four corners. Except one of the standing Buddha statues the colors of the robes were changed to yellow in the Burmese style rather than the traditional white in other temples in Thailand. The Wat Chedi Liam is one of the finest examples of the Mon style Chedi architecture that was popular between the seventh and thirteenth centuries.
Walking Tours in Chiang Mai, Thailand