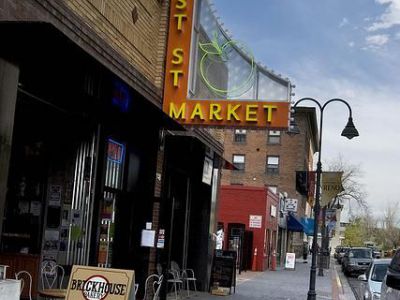 West Street Market, Reno
Nestled in the heart of Reno, the West Street Market stands as a unique and vibrant gathering place for locals and visitors alike. With its diverse array of stalls, shops, and cafes, it offers a one-of-a-kind experience that celebrates community, good food, and a lively atmosphere.

Shaped like a U, the market showcases an assortment of offerings to cater to every taste and interest. Local farmers bring their fresh produce, ensuring that visitors can savor the flavors of the region while supporting sustainable and eco-friendly practices. The market also features stalls selling clothing, jewelry, and souvenirs, providing an opportunity to discover unique and locally crafted treasures.

For those seeking a taste of Reno's local spirit, the Reno Envy Shop offers a collection of original shirts that capture the essence of the city. It's the perfect place to find a distinctive piece of clothing that embodies the Reno vibe.

The West Street Wine Bar is a haven for wine enthusiasts, boasting an impressive selection of over 50 wines along with excellent beer options. Whether you're a connoisseur or a casual wine lover, the bar offers a cozy and inviting ambiance to relax and indulge in a delightful glass of your favorite vintage.

Beyond its culinary offerings, the West Street Market embodies a strong sense of community. Merchants at the market embrace the principles of organic and local food movements, aligning themselves with sustainable practices and a commitment to quality. This collective effort creates a welcoming and inclusive space where everyone can come together to enjoy good food, good company, and a sense of belonging.

The market has gained recognition for its exceptional offerings in vegan, vegetarian, and gluten-free cuisine, making it a hidden gem for those with specific dietary needs. It's a place where food enthusiasts can discover delectable options that cater to a variety of tastes and preferences.
West Street Market on Map
Walking Tours in Reno, Nevada