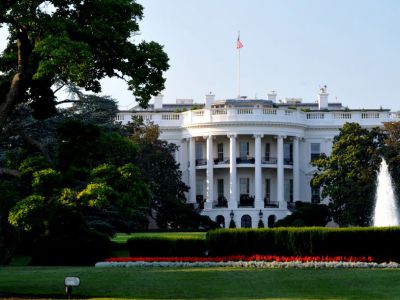 White House, Washington D.C.
(must see)
The White House address at 1600 Pennsylvania Avenue, Washington, D.C. is both home and office of the American President, much as the symbol of the United States. While this is not the first home of American presidents, it has been the home of every American President since John Adams moved in here during his presidency in 1800. The design was made by James Hoban and the construction started with the laying of the cornerstone in 1792. Each president ever since has added their own touch to the people's house, some big and some small.

The original White House was burned, almost to the ground, by British troops in 1814 during the War of 1812. Rebuilding soon began and was finished by 1817. The South Portico was added in 1824 and the North Portico followed in 1830. The West Wing came during an addition in 1901 and then later the Oval Office was added. A fire of 1929 damaged the West Wing but the damage was repaired, and in the 1930s, a second story and basement were added, upon which the Oval Office was moved to its present location.

By 1948 the building was in need of a serious repair prompted by numerous additions made over the years. Load bearing beams were installed and a complete dismantling of the interior was undertaken. Sadly, most of the glorious handcrafted work was lost during that process. In the 1960s Jacqueline Kennedy oversaw another extensive redecoration of the White House whereby some of the artifacts, previously lost, were brought back and the building returned to its grander days.

Today, the White House has six stories, 132 rooms and various amenities including a tennis court, swimming pool, bowling alley and, of course, the First Garden. Following the attacks of 9/11, the White House is no longer open for tours, except on a very limited basis. All those wanting a tour must ask their Congressional representatives to put them on a list and have background checks completed prior to the visit.

Tip:
The entire tour is self-paced, so you might want to brush up on your White House history (War of 1812, etc) ahead of time, so as to maximize the experience. You will only be visiting the East Wing, so that will limit how much you need to research.
If you're you don't get a tour time, don't be heartbroken. Stand in front of the White House and take a group photo, then head over to the Visitor Center and use the interactive displays where you can see the same rooms.
Walking Tours in Washington D.C., USA
Useful Travel Guides for Planning Your Trip
---