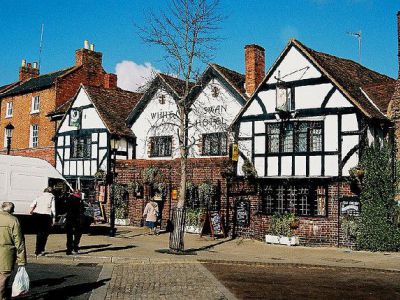 White Swan Hotel, Stratford-upon-Avon
A truly historic, black-and-white Tudor building of the White Swan Hotel has been ever faithful to the Stratford-upon-Avon picture perfect postcard since its construction in 1450. One of the few oldest preserved buildings in town, this was originally a bakery amongst whose faithful bread buyers, they say, were the Shakespeares. It started as an inn in 1560, and was first known as the King's House or Hall.

The Hall was owned by Robert Perrott, the brewer, and was kept by his brother William. In 1588, Roberts's granddaughter Susanne Woodward married a young officer, called Richard Tyler, who happened to be one of William Shakespeare's boyhood friends. Rumours have it that the Bard and the young couple would have had many a drink here, which is plausible, considering that Tyler had a passion for ales and was the son of an appointed Ale Taster for the borough.

Inside the hotel, in the oak room, there is a wall painting, commissioned by William Perrot in honour of his wife, dated around 1560. The painting depicts the story of Tobias and the Angel, and was discovered in 1927 during renovation. Chances are that, in his day, William Shakespeare could well sit here and enjoy his mead whilst looking at this very painting...
Walking Tours in Stratford-upon-Avon, England