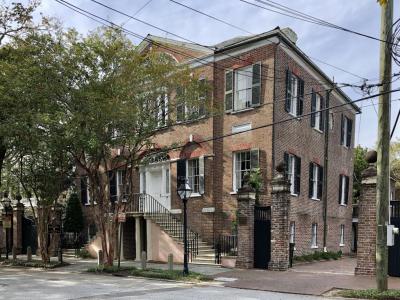 William Blacklock House, Charleston
Built in 1800 for William Blacklock, a prominent British merchant and member of Charleston's Bank of the United States, this house is not only one of the most significant Adamesque residences in the country but also one of the earliest permanent homes in the Harleston Village, which was once considered a suburban retreat. In the early 19th century, properties located to the north of the old city offered residents a more secluded atmosphere compared to the bustling downtown area, contrary to the density surrounding the house today.

While the architect remains unknown, speculation suggests the double house may have been designed by either William Drayton or Gabriel Manigault, the latter being Charleston's renowned gentleman architect. Symmetrical in both plan and elevation, it features Palladian proportions and reflects the high-style Federal aesthetic of the era. Architectural elements include a frieze with a rosette motif, swags, dentils, and block modillions characteristic of the Federal style. The north façade highlights a Palladian window centered within the façade, while a porch on the north side connects to a recently added free-standing elevator tower. Furthermore, the structure is adorned with intricate motifs such as egg and dart, bead and reel, dentils, swags, cherubs, vases, and fluttering ribbons on mantels and surrounds, showcasing the high-style mannerisms of the era's architecture.

The Blacklock House underwent a major restoration in 1937, and received recognition as a National Historic Landmark in 1973 due to its architectural significance and exceptional design quality. A year later it was acquired by the College of Charleston, now housing its Office of Alumni Relations. The property additionally includes two outbuildings, each of which have Gothic Revival features.
William Blacklock House on Map
Walking Tours in Charleston, South Carolina