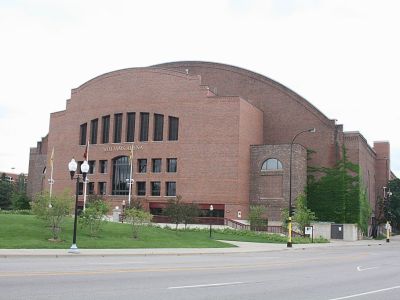 Williams Arena, Minneapolis
Williams Arena is the home arena for the University of Minnesota's men's and women's basketball teams. It also housed the men's hockey team until 1993, when it moved into its own building, Mariucci Arena. The building is known as "The Barn", and its student section is known as "The Barnyard".

Williams Arena is located on the U of M's East Bank campus. It is in a neighborhood called Stadium Village, named for the old Memorial Stadium that stood there until its demolition in 1992. The arena is adjacent to TCF Bank Stadium, Mariucci Arena, and Ridder Arena, where the football and hockey teams respectively play.

Initially known as the Minnesota Field House, Williams Arena was constructed in the 1920s and opened in 1928.The arena was remodeled in 1950, and renamed Williams Arena after Dr. Henry L. Williams, the football coach from 1900 to 1921.

As part of the 1950 renovation, it was divided into two separate arenas within one building—a larger one for basketball and a smaller one for hockey. Both arenas were called Williams Arena until March 2, 1985, when the hockey section was renamed Mariucci Arena after longtime Gopher hockey coach John Mariucci. The hockey team moved into a new building across the street from Williams in 1993, also named Mariucci Arena. The old Mariucci Arena within Williams was remodeled into the Sports Pavilion, now the Maturi Pavilion, named for former University of Minnesota athletic director Joel Maturi in August 2017, which houses the volleyball, wrestling, and gymnastic teams.

The building has an arched roof, in the same manner as an airplane hangar. The double arch steel beams allows an open space for the bleachers and floor. There are some seats with partially obscured views due to the upper deck extending past the trusses.

Williams Arena features an unusual raised floor design. The court surface is raised above the ground approximately two feet so that players' benches, officials tables, etc., are actually below the court. The same goes for fans with the first row looking at players at about knee-level. Normally, other than the officials and those players actively playing, only head coaches are allowed to be on the court itself. The raised floor is one of only a few remaining examples left and contributes significantly to the historic aura of the 90-year-old arena.
Sight description based on Wikipedia.
Walking Tours in Minneapolis, Minnesota