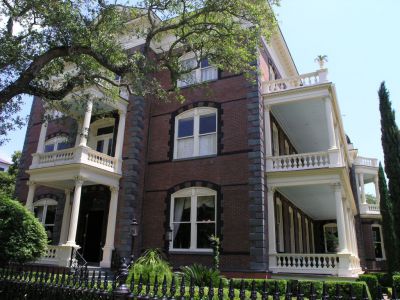 Williams Mansion (fka Calhoun Mansion), Charleston
(must see)
This house museum stands out as one of Charleston's few grand Victorian-era palaces; a remarkable example of the Italianate style that gained popularity in America during the latter half of the 19th century. In Charleston's diverse architectural landscape, this style is somewhat rare, possibly because it emerged at a time when the city was still grappling with the economic aftermath of the Civil War. During the postwar Reconstruction period, there was limited construction of grand mansions in Charleston; however, George Walton Williams, a wholesale grocer and banker, was undeterred by the city's economic challenges. Unlike many wealthy Southerners, he had made substantial investments in England and the North before the war.

Upon its completion in 1876, the grand Charleston residence garnered extravagant praise in newspapers from New York, Atlanta, and Charleston, which all touted it as "the handsomest and most-complete home in the South, if not the country." To this day, it remains Charleston's largest privately owned home, with its 35 rooms, 24,000 square feet of living space, 23 fireplaces, a three-tiered piazza, Italian water gardens adorned with fountains, and a towering cupola that rises 90 feet above Charleston Harbor.

The name "Calhoun" is associated with the house because Williams's son-in-law, Patrick Calhoun (grandson of John C. Calhoun, known as "The Great Nullifier"), resided here until 1929, when he lost the house and his fortune in the stock market crash. Subsequent owners struggled to find a suitable use for the historic mansion, leading to its gradual decline and eventual condemnation in the 1970s. However, a young local attorney acquired the property and spent a considerable fortune and 25 years restoring its structural and artistic grandeur.

Today, the mansion showcases the extensive personal collection of the new owner, featuring English and American furniture from the 18th and 19th centuries, with a focus on Southern decorative arts. There's also an impressive collection of impressionist art, Chinese ceramics, and various art objects that seamlessly blend with the Victorian-era ambiance originally designed to create an impressive display. The mansion has gained national recognition, appearing in numerous magazines and serving as a set for the notable television miniseries "North and South". While photography is not permitted inside, visitors can enjoy a 35-minute tour that provides informative insights into the mansion's history and significance. The grounds also offer charming garden spaces adorned with statues and fountains.
Williams Mansion (fka Calhoun Mansion) on Map
Walking Tours in Charleston, South Carolina