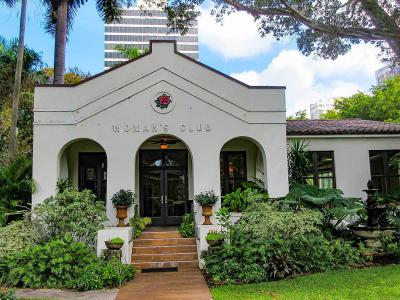 Woman's Club, Fort Lauderdale
Many visitors associate Fort Lauderdale with beaches and spring break festivities. While these are certainly not to be overlooked, there are also a great many historic buildings in this south Florida city. One of these is the Fort Lauderdale Women's Club.

The building was constructed in 1916 and dedicated in 1917. It was designed by prominent architect August Geiger who used the Mediterranean Revival style. The Women's Club was the first architecturally designed building in the city, which is one of the reasons it was included on the National Register of Historic Places. The building is also noted for its role as a social club that gave women a place to learn and talk about politics, education and literature.

The Women's Club wasn't just a social club. It also served as the location of the city's first Red Cross headquarters. The first Girl Scout Troop was founded in this building. Even the planning of Fort Lauderdale by city planner Richard Schermerhorn, Jr. took place in this building. Today, the Women's Club is a popular location for festivals, meetings and arts & crafts shows.

Visitors to Fort Lauderdale can enjoy the history of the Women's Club while also exploring the adjacent Stranahan Park. The botanical park includes mature trees, a butterfly garden, a tropical garden, a succulent garden and over 500 varieties of plants.
Walking Tours in Fort Lauderdale, Florida