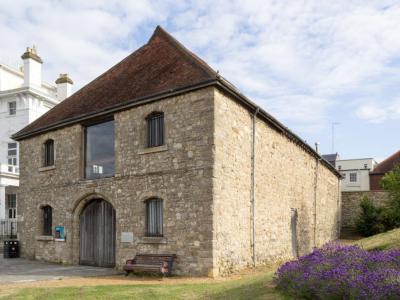 Wool House, Southampton
The Wool House is a medieval building in Southampton which was built to serve the wool trade. It has since had various uses.

The Wool House was built in the late 14th century to store wool for export to Italy. In the early 19th century it was used as a prison for Napoleonic French prisoners of war. The building was restored by Southampton City Corporation and adapted to house the Southampton Maritime Museum, which opened in June 1966 and moved to SeaCity Museum in January 2012. It is a Grade I listed historical building.

A plaque on the wall of The Wool House records its history.

During the early part of the 20th century, the premises were occupied by The Moonbeam Engineering Company Limited who built motor launches and later expanded to include the sale of wrought iron propellers and marine engines for export around the world. Edwin Moon used a corner of the workshop to realise his dream of constructing and flying an aircraft of his own design which he flew from land at North Stoneham in 1910, on fields which subsequently became Southampton International Airport.

The Maritime Museum, housed here from 1966 to 2012, documented the maritime heritage of Southampton and the Solent area, its history as a base for ocean liners and in particular its connections to RMS Titanic. After Maritime Museum moved to its new location in SeaCity Museum, the Wool House had a couple of tenants. It is currently a brewpub/restaurant.
Sight description based on Wikipedia.
Walking Tours in Southampton, England