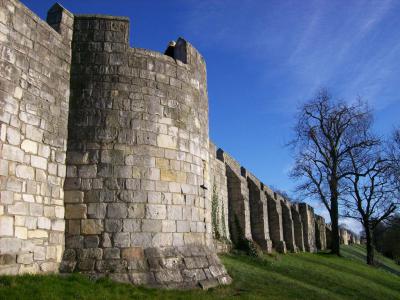 York City Walls, York
(must see)
York has, since Roman times, been defended by walls of one form or another. To this day, substantial portions of the walls remain, and York has more miles of intact wall than any other city in England. They are known variously as York City Walls, the Bar Walls and the Roman walls (though this last is a misnomer as very little of the extant stonework is of Roman origin, and the course of the wall has been substantially altered since Roman times). The walls are generally 13 feet (4m) high and 6 feet (1.8m) wide.

The original walls were built in wood around 71 AD, when the Romans erected a fort occupying about 50 acres or 21.5 hectares near the banks of the River Ouse. The rectangle of walls was built as part of the fort's defense.

The Roman-built walls were not up to the job of defending the city against the Vikings invasion. A new wall was built in the 12-14th century. The new wall built on top of the foundations about of the old Roman walls and expanded southwards up to and on the opposite sides of the Rivers Ouse and Foss to encircle the city.

The only entrances to the city are via the four main gates, also known as "bars" - these are Bootham Bar, Monk Bar, Walmgate Bar and Micklegate Bar. The gates restricted traffic in medieval times, and were used to extract tolls, as well as being defensive positions in times of war.
Sight description based on Wikipedia.
Walking Tours in York, England