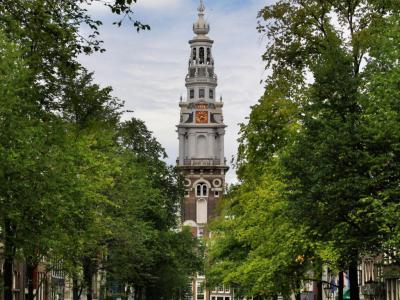 Zuiderkerk (Southern Church), Amsterdam
One of the most beautiful towers in Amsterdam, which even served as an inspiration for some of Monet's paintings, stands at the location of the Southern Church, known as the Zuiderkerk. Erected between 1603 and 1614, this church holds the distinction of being the first one in Amsterdam constructed exclusively for the Protestant faith. Responsible for its design was renowned architect and sculptor, Hendrick de Keyser, whose distinctive and highly popular style blended elements of traditional Flemish architecture with intricate embellishments, including ornate towers wherever possible. While the main body of the church adheres to a Gothic design, the towering spire exemplified his craftsmanship, featuring balconies, balustrades, arches, urns, and columns.

The Southern Church not only served as a source of inspiration, a model, and a symbol for some but also played an unexpected role as a morgue for the city at one point. During the harsh final years of the Second World War (1944–45), Amsterdam faced a severe shortage of food, leading to a situation where people were passing away more rapidly than they could be interred.

The famous Dutch painter Rembrandt is closely tied to this church in multiple ways, as three of his children found their final resting place here. Due to the proximity of Rembrandt's former residence to the location, there is even speculation that he completed some of his most renowned works within the church premises rather than in his studio.

Today, the building functions as a Municipal Exhibition Center, hosting a variety of events, concerts, and conferences.
Zuiderkerk (Southern Church) on Map
Walking Tours in Amsterdam, Netherlands
Useful Travel Guides for Planning Your Trip
---