 Things to Do in Columbus, Ohio USA
Columbus, Ohio is home to the NHL Hockey team The Columbus Bluejackets and the famous Ohio State Buckeyes. Columbus isn't just the Buckeyes, snow, and farmland, though! There are year-round and seasonal attractions for families that are worth visiting. Mix some fun and educational activities into your travel itinerary and visit Columbus!
---
1. Columbus Zoo The world-renowned Columbus Zoo is one of the biggest zoos in the USA. It's home to more than 7,000 animals. Columbus Zoo is laid out in regions, making it easy to identify which area of the world a particular animal lives. One of the highlights is the Heart of Africa, where there is a rotational watering hole and different animals rotate through all day (open seasonally). It is also where you can see the amazing cheetah run (showtimes are posted)! Additional areas worth seeing are the polar bear exhibit, the brown bear enclosure, the train that travels through the North American region, and the carousel on the other side of the zoo. There is so much more worth seeing. Visiting the Columbus Zoo is an all-day or multi-day destination that is fun for kids and adults!
---
2. COSI COSI or Center of Science and Industry is the crown jewel of fun yet educational places to take the kids. For the younger set, COSI has little kidspace, which is geared toward toddlers, preschoolers, and kindergartners. It is a large space filled with child-sized stations for imaginative play. There's a barn, a tree house, an eye doctor's office, a medical doctor's office, construction equipment, and so much more. Children need to play and COSI's little kidspace provides it! For second graders through age 11, there is the BigKid Lab. It offers age appropriate and monitored activities while younger siblings are enjoying Little Kidspace. Additionally, the entire area is monitored and contained, so that children can't leave without their adult(s).
COSI's
dinosaur exhibit
opened in November of 2017. In conjunction with the American Museum of Natural History, the permanent exhibit features 14,000 square feet devoted to dinosaurs, opening with a life-size cast of Tyrannosaurus Rex. The exhibit contains about 40 percent "real" fossils and is also home to some of the most current discoveries. This is a fresh, exciting exhibit and a must-see in Columbus. The rest of COSI also has so many activities and areas to explore. It's another multi-day destination for family fun and learning!
---
3. Franklin Park Conservatory A winter time favorite and beautiful any time of year. The Conservatory welcomes kids, even though at first glance, it seems more for adults. The greenery, flowers, and butterflies (starting in March), can brighten any cold, winter day for young and old alike. The Conservatory also has regular events throughout the year geared towards kids.
In 2018, the Conservatory is expected to open an unique 2 acre children's park. Among the many highlights are a 15 foot sandstone wall, which water will trickle down to form a stream, wetlands, places for children to dig, play, and jump, and a willow tunnel. While it won't be the largest children's garden in the country, it will be the only one to have a "weep wall" made of sandstone. The garden will encourage open ended play and the designer's hope is that it helps to cure the nature deficit that children today experience.
---
4. Columbus Museum of Art The Columbus Museum of Art is another surprisingly
kid-friendly place
. I didn't think a museum would have any spaces for kids, but they do have wonderful interactive play areas for kids (the Wonder Room), and things throughout the museum that kids can touch. The puzzles are a highlight for both kids and adults.
---
5. Olentangy Indian Caverns The Olentangy Indian Caverns are a series of naturally formed, underground limestone caves. Though younger children can go into the caves, this destination may be better suited for children 6 and older (or adventurous 4 and 5 year olds). There are steep stairs for getting into and out of the caverns. Wear sturdy, close-toed shoes for this visit, as it may be muddy and slippery.

The tours can be very busy during the season, but still shouldn't take very long, as the caverns aren't terribly big (though, it's said that they haven't been fully explored). Year round, the underground temperature is 54 degrees F (around 12 C), so it is a great stop after a hot, summer day, at the zoo. Please note, this is a seasonal attraction.
---
6. Columbus Commons On the site of the former City Center Mall is Columbus Commons, a park and green space in the middle of the city. There are 200 events in the space annually and it's the summer home of Columbus Symphony Orchestra's program Picnic with the Pops. Also on site are 2 cafes, a carousel, gardens, an NEOS electronic playground, and an open play area. Seasonally and during specific times, the open play area is open and features jump ropes, bocce ball, and life size foam shapes with which children can play and use their imaginations.
---
7. Schiller Park / German Village German Village is a unique destination within Columbus' downtown. The area is walkable, lined with restaurants, cafes, galleries, and shops. The most famous is The Book Loft, a 32 room book lover's paradise. It's one of the largest independent bookstores in the US and it's great for wandering.
Nearby sits Schiller Park. It boasts a pond and bridge, walking paths, playground, and stage. In addition to other events, every summer there are free outdoor Shakespeare performances (weather permitting) by Actors Theatre of Columbus.
---
8. Chestnut Ridge Metro Park Chestnut Ridge Metro Park, located in Carroll, is believed to be the first ridge in the foothills of the Appalachian Mountains. A lesser known park, it has mostly moderate to difficult hiking and mountain biking trails, including a 9 miles trail that is solely for mountain bikes. It is one of many fantastic parks located around Columbus.
Columbus has an incredible metro park system and is also surrounded by wonderful state parks, like Alum Creek. Alum Creek is located 12 miles from Columbus Zoo and features a large, freshwater beach.
---
9. Slate Run Metro Park Living Historical Farm Even with the amazing parks in Columbus, Slate Run stands out. At Slate Run, your family can experience what life was like in the 1880s, with costumed staff and volunteers bringing history to life.  They tend to their daily chores around the gothic revival farmhouse, barns, and garden. In addition to normal farm animals, like pigs and turkeys, Slate Run is also home to Percheron horses. The farm house was built in 1856 and has been restored by the metro parks.
---
10. Kelton House The Kelton House is a mansion that was used as a stop in the Underground Railroad. The house has been restored to represent a period between the mid-1800s and 1900 and functions as a museum about the Underground Railroad.

Kelton House was built in 1852 by Fernando Cortez Kelton and Sophia Langdon Stone Kelton, fervent abolitionists. The home was passed on to various family members, and at one time, it was home to Isabella Morrow Coit,the daughter of the local women's rights leader Elizabeth Greer Coit. A suffragist herself, Isabella was also one of the first four women to attend The Ohio State University. Filled with history, this is a great stop for families with children ages 8 and up.
---
11. Audubon Rock Climbing Wall Scioto Audubon Metro Park sits in the southern part of downtown Columbus. It was transformed into an abandoned, ugly area into a wonderful, green park with facilities unique to Columbus, like the climbing wall. It is the largest free outdoor climbing wall in the US. Climbers do have to bring their own equipment and the age minimum for climbing is 13 years old. However, the park also has a playground, an obstacle course, and trails.
---
12. Bonus: Cornhenge Cornhenge is an odd art installation just minutes outside of Columbus in Dublin, Ohio. It consists of 109 giant ears of concrete corn. The site is called the Sam and Eulalia Frantz Park and it is surrounded by corporate buildings. The area was originally farmed by Sam Frantz, who invented several corn hybrid species. This area pays homage to him and reminds visitors of the areas agricultural beginnings. While it isn't necessarily worth a long drive, if you find yourself in northern Columbus, it's a unique and oddly picturesque spot.
---
Author Bio:
Natalie is a blogger and mom, who became an expat in Mexico in 2017. When she's not playing with her kids, traveling, or writing, you can find her indulging in old Sci-fi shows with her husband.
Discover more about family travel and expat life at
Blissmersion.com
.
---
Get GPSmyCity App for IOS or Android
You can read offline thousands of travel articles like this one in the "GPSmyCity: Walks in 1K+ Cities" app on
iTunes App Store
or
Google Play Store
. The apps also offer city offline maps and GPS navigation to guide you to the places featured in the articles.
Walking Tours in Columbus, Ohio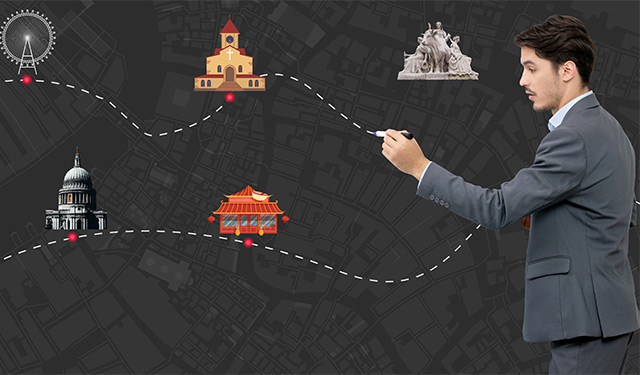 Creating your own self-guided walk in Columbus is easy and fun. Choose the city attractions that you want to see and a walk route map will be created just for you. You can even set your hotel as the start point of the walk.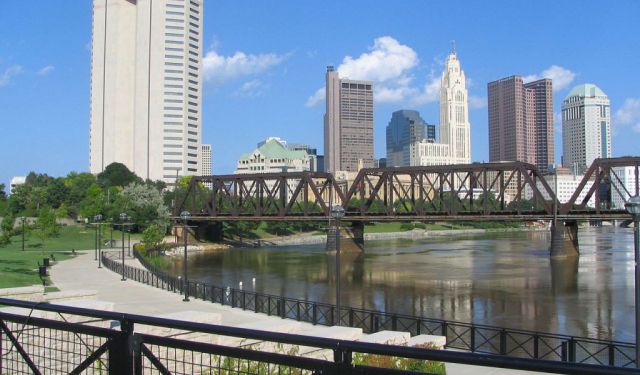 The state capital of Ohio is the beautiful and historic city of Columbus. Located in the middle of the Buckeye State, Columbus is known as both the governmental and cultural center of Ohio.
Columbus was first inhabited by the indigenous Adema, Hopewell and Fort Ancient people. Nearby mounds and a large number of artifacts kept at the Ohio Statehouse show evidence of these early cultures.
...
view more
Tour Duration:
2 Hour(s)
Travel Distance:
2.9 Km or 1.8 Miles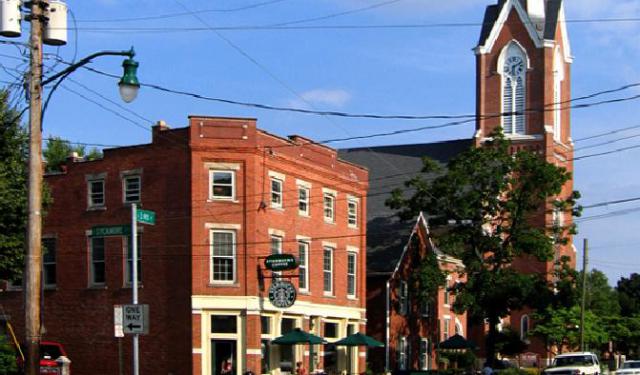 One of the oldest and most treasured historic neighborhoods of Columbus, the laid-back German Village is known for charming brick houses built by German settlers along Beck, Mohawk, and Deshler streets in the early-to-mid-19th century. Many of the local buildings – boutique shops and art galleries, pubs, restaurants and coffee shops – look exactly the way they did 150 years ago thanks to a...
view more
Tour Duration:
1 Hour(s)
Travel Distance:
1.7 Km or 1.1 Miles