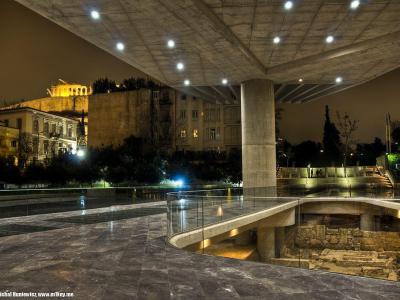 Acropolis Museum, Athens
(must see)
A four-story, entirely glass structure, the modern Acropolis Museum is home to all artifacts discovered in and around the Acropolis since 2009 and offers stunning panoramic views of the Acropolis itself. Collections are displayed on the first three levels, while the fourth level houses a museum shop and a café serving authentic Greek cuisine.

Upon entering, visitors are welcomed by an ancient owl, the revered bird of Athena, dating back to 500 BC, followed by an impressive array of exhibits: freestanding sculptures of deities and humans, marble figures, fragmented artifacts, and friezes. The exterior entrance and walkways mostly feature glass floors, allowing visitors to glimpse the excavated remnants of ancient civilization beneath them.

The collection is thoughtfully arranged in chronological order, commencing with discoveries from the Acropolis slopes, such as statues and reliefs from the Sanctuary of Asclepius. The Archaic Collection is displayed in a magnificent double-height gallery, showcasing fragments of painted pedimental statues with mythological scenes, including Hercules grappling with monsters. On the level below, the post-Parthenon Collection comprises sculptures from the Temple of Athena Nike and architectural elements from the Propylaea and the Erechtheion. This includes five of the original six caryatids from the south porch, with the sixth held at the British Museum.

Why You Should Visit:
To enjoy an excellent introduction to the Acropolis and the birthplace of democracy. Well-organized and air-conditioned, this museum provides a fascinating glimpse into daily life in ancient Athens. Multimedia presentations enhance the experience, and personal guides are available for a deeper understanding of the significance of the displayed artifacts.

Tip:
Start with the informative video on the third floor, which effectively connects the museum to the Acropolis itself (also stunning views of the Acropolis through the windows there), then work your way down, and take a break on the outdoor terrace on the second floor.
Walking Tours in Athens, Greece
Useful Travel Guides for Planning Your Trip
---