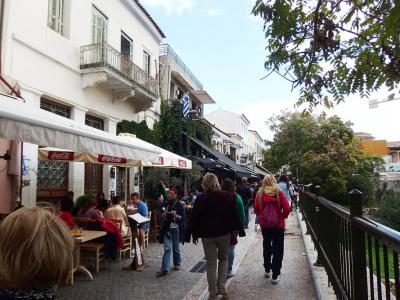 Adrianou Street, Athens
Just a short stroll from Avissinia cafe is Adrianou street, the bustling thoroughfare of Plaka neighborhood. Although heavily commercialized these days, the street does retain the feel of old Athens all the same. In fact, there are two parts of Adrianou quite different from one another: the upper part – Adrianou Ano Plaka – stretches right in front of the Agora (Acropolis) complex; and the lower – Kato Plaka – lies between Syntagma and Monastiraki. The former section is densely packed with sidewalk cafes, taverns and restaurants offering visitors, apart from decent food and coffee, an excellent view over the Acropolis plus a vantage point for crowd watching and, of course, some gossiping too (just as the Athenians do – espresso in one hand, pastry/cigarette in the other). In addition to the magnificent (especially at night) views of the ancient ruins and the ever-present cool breeze, this place will greet you with a friendly service while you enjoy your refreshment and light meal.

Don't miss the cozy, very well located 33 ALL DAY restaurant/bar, where you can have some of the best pizza in Athens, coupled with a large variety of Greek, Belgian, and German beers. Wide menu otherwise, with good-sized portions, and you will be pleasantly surprised by the quality of food (traditional Greek but with a modern/special twist), the presentation and the service.
Walking Tours in Athens, Greece
Useful Travel Guides for Planning Your Trip
---