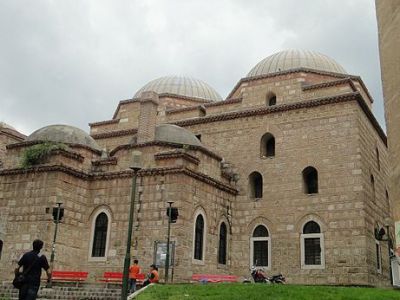 Alaca Imaret Mosque, Thessaloniki
The Alaca Imaret Mosque was built in the late 15th century. The city's governor Ishak Pasa sponsored its construction. As a result, the mosque is sometimes called the Ishak Pasa Mosque.

In addition to the mosque, the building housed a public charity kitchen, known as an imaret. It also housed a Medrese. The building is owned by the municipality of Thessaloniki and no longer functions as a mosque. It is used for exhibitions and cultural events.

The mosque features early Ottoman architecture with a reverse T plan. The large prayer hall has two large domes, and the portico has five smaller domes. Lead sheets originally covered all the domes.

The Alaca Imaret Mosque was the city's most impressive mosque. The interior featured murals as well as inscriptions from the Koran.

The mosque's minaret was destroyed after the Greeks re-captured Thessaloniki in 1912.
Alaca Imaret Mosque on Map
Walking Tours in Thessaloniki, Greece