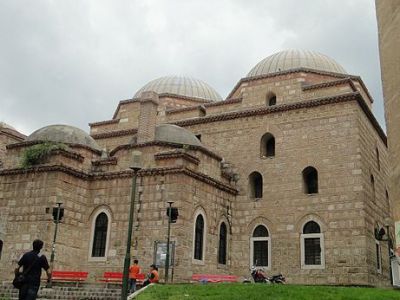 Alaca Imaret Mosque, Thessaloniki
The Alaca Imaret (aka Ishak Pasha) Mosque, literally the "Colorful Asylum", is a 15th-century Ottoman mosque. According to an inscription at the entrance, the mosque was founded in February 1484 by order of Inogiolou Ishak Pasha, Grand Vizier during the reign of Mohammed II and later during the reign of Bayezid II.

In addition to being a place of worship, the building also housed an imaret (public charity kitchen) and medrese (priestly school). By the 17th century Alatza Imaret had become one of the most prominent institutions in the city.

The mosque has an inverted T-shape, quite typical of the early Ottoman architecture, with a central space, two large domes, side apartments on the west side and a colonnaded portico with five smaller domes. Back in the day, the central area of the building was reserved for prayer, while the four sides were used for teaching and meals. Internally, a large arch divides the space into two square sections, each of which is covered with a dome.

The once lavish interior decoration featured murals in the domes, especially in the second dome, and on the walls, as well as quotations from the Koran.

The name Alaja Imaret is due to the colorful, rhomboid-shaped stones (alaça) that once adorned the mosque's minaret. The latter was destroyed after the Greeks re-captured Thessaloniki in 1912; only its base has survived.

In 1970, a year after the collapse of the northern part of the portico, maintenance works got underway for the first time, which were then repeated in 1993-1996, seeing, among other things, the restoration of the elaborate external masonry.

The building is now owned by the municipality of Thessaloniki and no longer functions as a mosque, but instead serves as an exhibition space.
Sight description based on Wikipedia.
Alaca Imaret Mosque on Map
Walking Tours in Thessaloniki, Greece