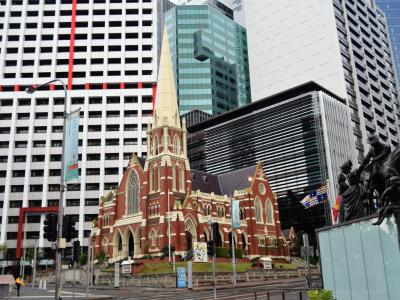 Albert Street Uniting Church, Brisbane
The Albert Street Uniting Church began construction in 1889 and is an excellent example of the Victorian Gothic Revival style that was so popular in the colony at the time. The first Methodist congregation of Brisbane began in 1849 and met at an Albert Street address, but as the church grew it became clear that a larger space was required. A competition to choose the design was established and G H M Addison won for his plans. On August 18, 1888 five foundation stones were laid down by high profile parishioners and the church was completed in 1889. It features a cruciform shape, with a steeply pitched roof and buttressing and a high bell tower and spire.

In the tradition of the Methodist Church there was a heavy emphasis on music and a grand organ was installed. The organ came from England and was enveloped in gold leaf. The design means that the organ and the pulpit are the direct focus of the seated congregation. The church is open Monday to Friday to visitors from 10am to 2pm and you can arrange for tours of the church in advance – it is free, but a small donation is appreciated.
Albert Street Uniting Church on Map
Walking Tours in Brisbane, Australia