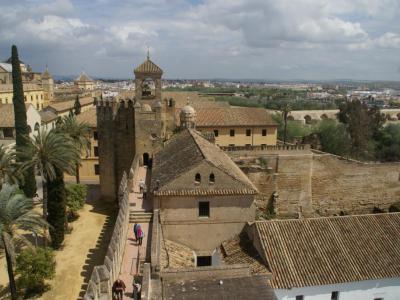 Alcazar de los Reyes Cristianos (Castle of the Christian Monarchs), Cordoba
(must see)
In early medieval times, the site of the Castle of the Christian Monarchs (Alcazar de los Reyes Cristianos) was occupied by a Visigothic fortress. In the late 8th century, Abd ar-Rahman and his successors built the Alcazar. The area enclosed baths, gardens, and a library in the western world. Expansion continued under the Almohads (members of a Muslim Berber dynasty) in the 12th and 13th centuries.

Cordoba fell to the Reconquest in 1236. The present-day Alcazar kept by Alfonso XI was redone in the Mudejar style. During the civil war, Alcázar's defenses were upgraded to deal with the advent of gunpowder.

Isabella, Queen of Castile, and her husband Ferdinand II, King of Aragon, used the Alcázar as the first permanent tribunal of the Spanish Inquisition. In 1486 Christopher Columbus had his first audience here to solicit support for his expedition. The Inquisition used the Arab Baths as torture chambers. Napoleon garrisoned his troops here in 1810. In 1821 it was a prison.

Four towers enclose the open areas of Alcazar; the octagonal Tower of Homage is Gothic in style, with an ogival ceiling, the 13th-century Tower of Lions named for the lion-like gargoyles on the roof, the ominous Tower of the Inquisition is circular, and the square Tower of the Dove is a reconstruction of the one demolished in the 19th century.

The Hall of the Mosaics is the main hall of the Alcazar. Under the hall are the Muslim Royal Baths. The Courtyard of the Moriscos has arched verandas. There is a fountain between two ponds. The Courtyard of the Women was once a women's prison.

The Reception Hall has a Roman mosaic of the God Oceanus. The Royal Baths of Dona Leonor, built by Alfonso XI in 1328, are named for his mistress, Leonor de Guzman.

The Alcázar has been declared a Cultural Interest Heritage since 1931. It forms part of the Historic Center of Córdoba, listed as a World Heritage Site by UNESCO in 1994.
Alcazar de los Reyes Cristianos (Castle of the Christian Monarchs) on Map
Walking Tours in Cordoba, Spain