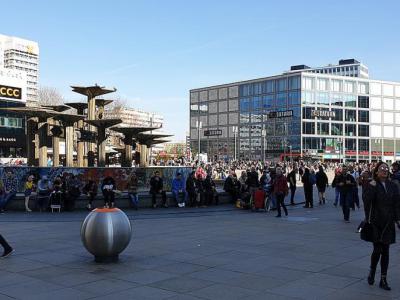 Alexanderplatz and World Clock, Berlin
Often referred to as 'Alex' by Berliners, the epicenter of the old East is inevitable to run across while exploring the city. Originally a cattle market in the Middle Ages, the square was named in honor of a visit by the Russian Emperor Alexander I in 1805. It evolved into a significant commercial hub in the 19th century and, alongside Potsdam Square, became the heart of Berlin's nightlife in the roaring 1920s.

Today, Alexanderplatz has a distinct atmosphere reminiscent of the 1960s and the heyday of East Germany (GDR), offering a unique opportunity to glimpse what high-rise flats looked like before the fall of the Berlin Wall. Notably, the largest demonstration against the GDR regime took place here in the autumn of 1989, with half a million citizens demanding freedom of speech and press freedom.

The large area around the iconic TV Tower is often teeming with tourists but also serves as a venue for interesting events; for instance, during the Christmas season, a significant portion is transformed into a Christmas village. The bustling train station is surrounded by shops, bars, and restaurants, providing plenty of options for visitors.

Don't miss the Fountain of Friendship between Peoples and the Neptune Fountain located past the TV tower; both offer great opportunities for photos. Another intriguing sight is the Weltzeituhr, a massive 16-ton clock built in 1969 that displays the times in 148 cities worldwide. This attraction perfectly complements Alexanderplatz's role as a central meeting point: no need for discussing the correct time when a friend arrives late.

Tip:
Before your visit, it's worthwhile to view pictures of how the square appeared in the early 20th century and during the Cold War era.
Alexanderplatz and World Clock on Map
Walking Tours in Berlin, Germany
Useful Travel Guides for Planning Your Trip
---