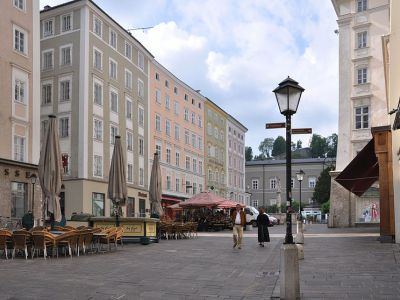 Alter Markt (Old Market Square), Salzburg
(must see)
Sometimes street and square names immediately reveal what once took place within them and became defining. So it is also with Salzburg's small and cozy Alter Markt, which retained its name even after the weekly market held here in the early Middle Ages has moved in the 19th century. Besides serving as a marketplace, the square was used for celebrations like the Whitsun festival and dances, the Sword Dance by the Durrnberg Miners and the annual barefoot dance by the bakers.

The Old Market is still flanked by a row of baroque burgher houses, most of which have medieval origins, as well as by the old market house, the old court pharmacy, the city's oldest coffee house (Tomaselli) and also Salzburg's smallest house at No. 10A, Alter Markt. Plenty of people walk by it without realizing – so just take a look, take a laugh, and take a picture.

As if the houses were not jewelry enough, the square is adorned by the Florianibrunnen. Replacing the original medieval draw well, this more sophisticated Baroque fountain was built in several stages. Its oldest surviving part is the ornamental metal fence created in 1583, which incorporates depictions of horseback riders, animals, plants and coats of arms – the one of Prince Archbishop Johann Jakob von Koen-Belasy, of the city of Salzburg and of the state of Salzburg. Also displaying Salzburg's coat of arms, the fountain's central pillar dates from 1687, while the large, octagonal marble basin was added circa 1685. The statue of Saint Florian, who is supposed to protect buildings from fire, tops the fountain, dating from 1734.

Tip:
Have something from the many vendors! You can try delicious local as well as other types of (inexpensive) food here.
Alter Markt (Old Market Square) on Map
Walking Tours in Salzburg, Austria