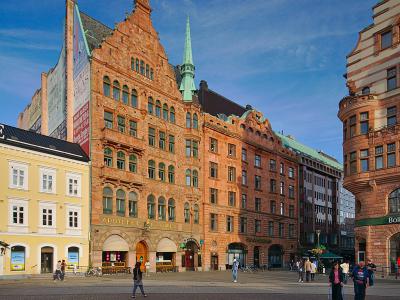 Apoteket Lejonet (Lion Pharmacy), Malmo
Lion Pharmacy was built in 1896 and is one of Malmo's most distinctive landmarks. The pharmacy owner, John Tesch, wanted the building to be eye-catching. When construction was completed, Lion Pharmacy was one of Europe's largest pharmanies.

The pharmacy is also known as Tesch's palace. John Tesch had apartments in the pharmacy and even had a very modern elevator to reach his apartments.

In the 18th and 19th centuries, each pharmacy in Sweden was assigned an animal symbol to differentiate the pharmacies. This pharmacy was awarded the lion symbol and is known as Lion Pharmacy.

The Lion Pharmacy has a beautiful art-nouveau interior. It features meticulously carved wooden shelves with vintage medicine bottles and a stunning glass-plated ceiling.

On the side of the building, visitors can admire original late 19th century and early 20th-century hand-painted advertisements. The pharmacy's facade features elaborate reliefs. At the top of the building, visitors will notice the Rod of Asclepius, the Greek symbol for medicine and healing.

The facade also features John Tesch's bust and a fabulous relief of cherubs acting as pharmacists.
Apoteket Lejonet (Lion Pharmacy) on Map
Walking Tours in Malmo, Sweden