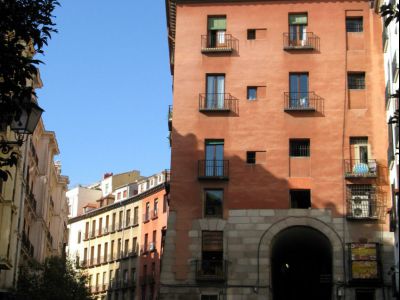 Arco de Cuchilleros (Arch of Cutlers), Madrid
The largest and liveliest plaza in Madrid is the Plaza Mayor and you can gain access to it through nine archways, the most famous of which is the Arco de los Cuchilleros. It's more a street than a simple arch between one place and another. Reached by a flight of stone steps, it was once where the city's cutlers and sword makers plied their trade. Nowadays it has taverns and handicraft shops where you can buy handmade souvenirs, including pottery, leather goods, wood-carvings, wicker baskets and silver jewelry. In one of the taverns you can watch, or even take part in, flamenco dancing.

In 1808, during the French occupation of Spain, a friar named Antonio stood atop a simple metal railing at the arch, preserved to this day as a sort of makeshift pulpit. From there, he rallied and motivated the people to resist Napoleon's troops and revolt against the imposed rule of King José Bonaparte. The exact date of this event is unknown, but it likely occurred in the days leading up to the heroic May 2, 1808 uprising. On that momentous day, the people of Madrid bravely fought the French soldiers with whatever weapons they could find, including stones, knives, sticks, pots, and even blunderbusses.

This seemingly small anecdote played a role in shaping the events of that fateful day. The May 2 uprising ultimately contributed to Spain's regaining of independence six years later, as well as the establishment of its first democratic constitution. The significance of this day is so profound that it is now celebrated as a holiday in the province of Madrid, serving as a remembrance of the heroes who fought for their country's freedom. Among them, the friar Antonio and the pulpit that witnessed his impassioned speech will always be remembered.
Arco de Cuchilleros (Arch of Cutlers) on Map
Walking Tours in Madrid, Spain
Useful Travel Guides for Planning Your Trip
---