Ultimate Madrid Walking Tours and Travel Guide to Exploring Madrid Spain on Foot
A leisurely stroll – or Paseo, as the Spaniards lovingly refer to their favorite pastime – is the best way to discover the Spanish capital, Madrid. Most of the city is relatively flat and, thus, easy to walk. The Madrid walking tours found on this page guide you to the best known city attractions, historic neighborhoods, hidden restaurants renowned for the authentic Spanish food, shopping venues where you can find genuine locally-made products, nightlife spots, and more...
This comprehensive Madrid travel guide is specifically created for people who love to explore new places on foot, often at their own pace.
Table of Content
---
Part 1. Step by Step Guide to Exploring Madrid on Foot
Whether you are in Madrid for the first time or on a repeat visit, the best way to make the most of your trip is to explore the city on foot. To know where to go and what to do, we have compiled a number of themed walking tours (grouped by city areas or interest) covering pertinent city attractions and showing you where it all "happens". If you prefer exploring on your own, we also give you tourist maps with detailed walk routes and tools so you can navigate the city with ease. Alternatively, if you prefer a local-guided tour, you can find them here as well.

Let's get started.
Sightseeing - City Introduction
For a first time visitor to Madrid it is recommended to start with some best known attractions, such as Pueta del Sol Square, Royal Palace, Mercado de San Miguel, Plaza de Oriente, Palacio Real, Sabatini Gardens, Plaza Mayor, Restaurante Sobrino de Botin, etc. The walking tours below take you there: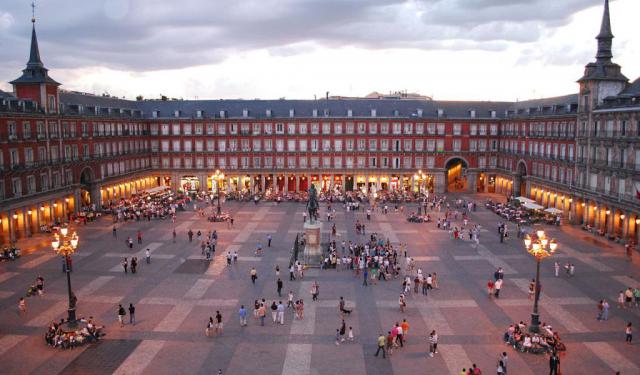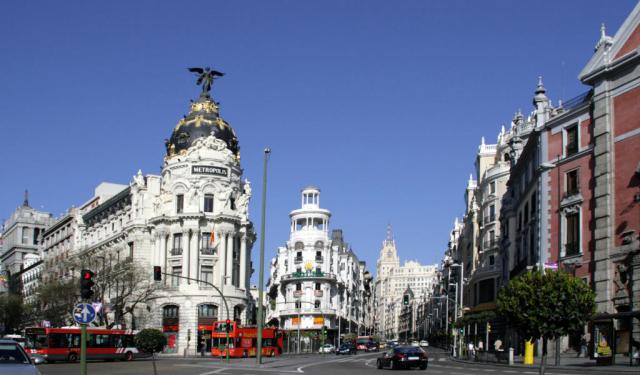 Sightseeing - More of Madrid
Eventually, you may want to see more of Madrid walking in the downtown area or other parts of the city, each with its own vibe, history and character. Here are the neighborhoods worth visiting:

La Latina – close to the city center; home to some of the best restaurants serving traditional Spanish food and tapas bars.

Madrid de Los Austrias – also close to the center offering; great architecture and lots of restaurants serving traditional food.

Malasana – arguably Madrid's trendiest district with active nightlife, lots of bars, cafes, restaurants and boutique shops.

Salamanca – renowned for high-end living; luxury shops and beautiful mansions.

Lavapies/Anton Martin – head here if you're into ethnic foods.

Moncloa and Camberi – "real Madrid", somewhat older in terms of architecture than other parts of the city.

Check out the following guided and self-guided walks to help you navigate these neighborhoods:
Food and Drink
Madrilenos love their food, which plays an important role in their lives. Madrid's lunches are lavish and stretch from about 1:00 pm to 3:30 pm, while dinners are usually served between around 8:00 pm and 11:00 pm. Although landlocked, Madrid is renowned for superb seafood, which is often even better than elsewhere on the coast, but comes at a price.

Of all the Spanish seafood dishes, paella is the most popular. Another key local must-try is undoubtedly jambon iberico (cured ham). This and other meats are staple ingredients of tapas and raciónes – bite-sized snacks – served in Madrid by tonnes on a daily basis. Oftentimes, you may get them for free when ordering beer or wine. The latter comes in a huge variety and includes vino tinto (red), vino blanco (white), jerez (sherry), and cava (sparkling wine). Particularly popular in hot summers is the wine cocktail, called sangria.

If you would like to taste some truly authentic Spanish food, it is recommended to stay away from the "tourist traps" like e.g. Plaza Major that is overrun with tourists. There you're most likely to end up paying excessive price for some rubbish food, whereas the guides below will show you to some of the best spots in Madrid for sampling "real McCoy" Spanish cooking:
Shopping
Madrid is a major shopping destination renowned not only for fashion, which is grand courtesy of the brands like Zara and El Corte Inglés, but also for a plethora of other Spanish-made products: foods (meats, chocolates, olive oils, and others), wines (high quality table wines, sherry, etc.), hand-made ceramics, fans, hats, and other unique stuff. The latter, in particular, can be found in great supply at El Rastro, Europe's #1 flea market.

To explore Madrid's shopping scene in more detail and to find the best Spanish products on sale, all in the right places, follow these guides:
Nightlife
Madrilenos surely know how to have a good time. When it comes to partying, they start pretty late (around 10-11 pm) and continue until about 6 am. Madrid's bar scene is one of the densest per capita in Europe and its vibrant nightlife offers endless opportunities for locals and visitors alike, regardless of the age and style preference.

Some of the city's best bars and clubs are found in Gran Via, Sol, Barrio de la Latina, Barrio las Letras, and other central areas. Below you will find several self-guided nightlife walks to the hottest spots in Madrid. No worries about walking at night as long as you use your common sense; this is one of the safest large cities in Europe:
Museums, Arts and Literature
Madrid breathes culture and is a home to a number of world-class museums. One of them, alongside many of the city's top attractions, is located at Paseo del Prado, a grand tree-lined boulevard. The Prado Museum houses the largest in Spain national art collection of premiere European artists, such as Velázquez, Goya, Raphael, Rubens, Bosch, and the likes.

Another major national gallery is The Queen Sofía Museum specialized in 20th-century art. Here you will find works by Pablo Picasso and Salvador Dalí, as well as a smaller collection of international artists. Madrid is also closely associated with some internationally-renowned authors, like Lope De Vega and Ernest Hemingway, who one time or another lived here or visited.

To see where it all happened and visit the top cultural sights of Madrid, follow these guides and explore:
Other Tours of Interests
For other travel-related topics in Madrid generously presented by our contributors, check out the below list and explore the city in the comfort of your own self:
---
Part 2. Getting Around Madrid
Whenever you wish to explore other parts of Madrid (other than the central area) it is always good to rely on public transport to get there, which is rather convenient and value for money, and then continue your exploration on foot.

For shorter stays in the city, consider the Abono passes sold at Metro stations and tourist offices, offering unlimited rides on the Metro (subway) and buses, available for 1, 2, 3, 5, and 7 days at €8.40, €14, €18, €27, and €35, respectively (prices are subject to change). Alternatively, you can get yourself a 10-trip Metrobus ticket at €12.30. You can use the ticket on both metro and bus with a single ticket allowed to be shared by two people.

Metro

Madrid's Metro runs from 6am until 2am. Its 12 main lines and three additional short ones cover pretty much the whole city, with the Circular line serving as quick connector between the others. Prepare to use elbows extensively while entering and exiting subway cars, though, especially during rush hours (avoiding which is highly recommended), as it appears to be a "survival-of-the-fittest" type of necessity.

Bus

Public buses, the ones carrying EMT sign, are most convenient when traveling on the circular roads (rondas), e.g. from Atocha to Puerta de Toledo. They start running at 6am and continue until 11pm, with a single ride costing €1.50, unless you use a Metrobus ticket or an Abono.

Commuter Train

Suburban commuter railway network, known as Cercanía, is another useful way to visit uptown districts, like El Escorial (from Chamartín station) or Alcalá de Henares (from Atocha station). The ticket prices vary from €1.60 to €8.40, depending on zone. Note: neither Abono nor Metrobus pass is valid here.

Taxi

Madrid's taxis are reasonably priced. When you hail a cab between 6am and 9pm, the meter starts at €2.10 or €2.20 between 9pm and 6am. For every kilometer you will pay between €1 and €1.20. Prepare to part graciously with an extra €2.95 when going to a railway station, bullring, or a football stadium. A trip to Barajas Airport will set you back additional €5.50. Sundays and public holidays add another €1.20 to the bill. Tips are usual and account for 10% of the fare.

Make sure the meter is on when you get in, otherwise drivers may charge you off the top of their head, which is usually more than the meter would. There are some unmetered cabs in Mardid, too, which are quite legal, but often way too expensive. To play safe, go for black taxis with horizontal red bands or white ones with diagonal red bands.

If you take a cab outside the city, it is quite legal to charge you a double fare.
---
Part 3. Where To Stay
With many century-old buildings and monuments, Madrid offers plenty to see and visit. The local historical buildings and monuments were raised in different eras and you will be able to tell the influence of a certain culture on their architecture. You can even choose to stay in one of them, but be ready to pay more for such a choice.

Although officially the city is divided into 21 districts and is further subdivided into 128 wards, we would highlight as recommended 8 neighborhoods to stay in from an insider's point of view:

Sol – a central area surrounding Spain's km 0, where you can find many diversely priced accommodation options, shopping venues and fine eateries

La Latina – a centrally located neighborhood with a traditional vibe and a lot of hidden gems, worth exploring on and off the main streets by any – wanderers, shoppers, and foodies

Barrio de Las Letras – an old neighborhood with a bohemian vibe and plenty of hotels and hostels to stay in with prices ranging from some of the cheapest to some of the most expensive

Madrid de Los Austrias – a neighborhood still offering a central location, combined with fantastic architecture, lots of restaurants serving traditional food and varied accommodation options

Salamanca - a luxurious area with the priciest boutiques, restaurants and accommodation, being both ritzy and somewhat quieter than other neighborhoods

Lavapiés and Anton Martin - a multinational neighborhood, with cheaper accommodation and the opportunity to experience Madrid as locals do

Chueca – a very colorful neighborhood with many LGBT friendly accommodation options, welcoming everyone who is eager to have a lot of fun

Malasaña - a neighborhood with an intense nightlife where both, locals and travelers, join to take on the night and where you can find many accommodation options under €150 per night.
---
Part 4. Practical Tips
- Madrileños are very much fashionistas at heart and value smart dress, especially on women. The local men are quite dandies themselves too, so dressing up to the 9s (rather than down to the bare essentials) in Madrid is highly recommended. This will earn you due commendation in the eyes of the Spaniards.

- Many smaller or family-run shops observe the traditional siesta between 2:00 and 5:00 pm, so don't be surprised to find many of them closed during these hours. If you're in absolute need to shop around that time, head to the chain shops or major supermarkets that are open all through the day. The majority of restaurants and bars also take a break from 4:30 pm till around 8:00 pm.

- When out lunching in Madrid, make sure to try a menú del día - a set menu with drinks and dessert offered by the majority of restaurants. The menu comprises a choice of first course dishes (usually soups), several second courses (meat or fish with salad or other garnish) and desserts (either something sweet or a coffee). The portions are usually quite large. This way you can get an idea of the typical Spanish cuisine and satisfy your hunger. NOTE: if it says casera, it means homemade, i.e. prepared on-site. For dinner, consider raciones, "shared plates" of tapas (one type of food, e.g. jamon (cured ham), fried calamari or something else). True Madrileños usually order several different dishes for a meal. If you want a smaller portion, you can order a half ración (media ración).

- Some of Madrid's museums, like the Reina Sofia and Prado, offer free hours during the week. For Prado, these are 6:00 pm to 8:00 pm Monday-Saturday and 5:00 pm to 7:00 pm on holidays and Sundays. For the Reina Sofia, free entries come at 7:00 pm – 9:00 pm on Mondays, 7:00 pm – 9:00 p.m on Wednesday-Saturday, and 1:30 pm – 7:00 pm on Sunday. Tuesday is a day off.

- Having small amounts of cash (in euros) on hand is highly recommended in Madrid as, surprisingly enough, quite a few local establishments either don't take credit/debit cards at all or get fussy about the ones they accept.

- If you're a skinflint, rejoice! In Madrid they don't leave tips in the usual sense of it, neither in taxi nor at restaurants. Usually, they simply round up the bill to the nearest euro figure or leave loose change, and that's it. No pangs of conscience about lack of gratuities or anything; just pay the due and be on your way. However, if you do decide to tip a cabby or a waiter at a restaurant, 5% is more than enough. Otherwise, you'll run a risk of getting a funny look in return.
---
Part 5. Madrid Walking Tours and How They Work
Most of the walking tours found in the previous section are self-guided, but there are also a few tours guided by locals. This gives you a freedom of choice of either exploring it on your own or as part of a group. In this section, we explain the walking tour types and how they work.
- Self-guided Walking Tours
If you like it on your own, you may download our mobile app "GPSmyCity: Walks in 1K+ Cities" (available at iTunes App Store and Google Play) to your mobile phone or tablet (must be powered by either iOS or Android) and get access to self-guided walks in over 1,000 cities worldwide, including Madrid.
The app basically turns your mobile device into a GPS navigator. All the walks come with a detailed route map and allow you to create your own custom tours. The app works offline so you don't need to worry about roaming charges abroad.
The self-guided walks fall in two categories:
a) City Walk Guides - designed for exploring the city on your own; they include sightseeing walks and discovery walks.
Sightseeing walks feature a curated list of attractions (presented in the order of visiting) and a route map. Each attraction comes with a picture and background information.
Discovery walks explore a certain neighborhood/area, featuring a suggested route by taking which you can visit the most notable local sights; they also include photographs and a brief description of the area.
To see how it works, watch this video.
b) Travel Articles. These articles are written by travel writers, bloggers and locals. Unlike ordinary articles, you can use these to create a self-guided walking tour and explore the described attractions using GPSmyCity app (available at iTunes App Store and Google Play). This is why we refer to such articles as "walking tours".
For more details on GPS-powered travel articles, watch this video.
Highlights of GPSmyCity App:
Self-guided walking tours in 1,000+ cities worldwide
Downloaded tours operating offline
Each tour comes with a detailed GPS-powered map
The map shows your moves from one stop to the next
---
Hardware You Need:
please check the
hardware requirements
for using the gpsmycity app.
---
- Guided Walking Tours
Guided City Tours. These are group tours guided by locals, often professional guides, taking in some major tourist sights.
Free vs Fee-based Walking Tours. Although called a "Free Walking Tour", a walking tour that is totally free is a bit of a myth. Instead of paying a fixed fee in advance, on free tours you simply leave a tip at the end. In theory, you don't have to tip if you are not happy with the service. However, in reality, due to the peer pressure, more often than not, everyone does leave a tip.
A typical tip ranges between 10-20 dollars/euros per person, depending on the city. In cities like New York, San Francisco, London or Paris the tip is higher than, say, in Bucharest or Hanoi.
If you would like to join a guided tour, click "Check Availability and Book Now" on the tour information page and complete the "Contact This Guide" form. You will NOT be asked to pay anything, be it a free or fee-based tour. Instead, you will be put in touch with a tour guide who will inform you if and when the advanced payment is required.
---
Part 6. Other Useful Guides for Planning Your Trip
Here are a few other guides to Madrid that you may find useful when planning a trip: