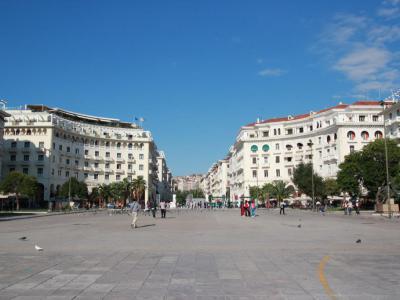 Aristotelous Square, Thessaloniki
(must see)
It was August, 1917. Greece had taken the Allied side in the Great War and the city of Thessaloniki was teeming with British and French troops and refugees from Turkey. In a small house of refugees at OLympiados 3, an ember from the kitchen fire set some straw alight. The fire spread, driven by the wind, and Thessaloniki burned for two days.

French architect Ernest Hebrard was in town. Prime Minister Eleftherios Venizelos forbade any reconstruction without a modern plan and he commissioned Hebrard for the job.

Hebrard came up with a city-wide plan of large squares and broad avenues and buildings with imposing facades derived from Byzantine elements. Among the large squares was Alexander the Great Square, now called Aristotelous Square.

A monumental axis stretches from sea-facing Aristotelous Square to Dikastirion Square and the Roman Forum. Looking uphill from the square one can see the ancient Byzantine walls of the city. A statue of Alexander the Great rides the waterfront esplanade of the square. Eleftherios Venizelos raises his right hand in benediction.

Aristotle relaxes in his chiton and sandals. The big toe of his left foot shines from rubbings of students hoping his wisdom will rub off. The square is a venue for rallies and demonstrations and cultural events, including annual Christmas and carnival celebrations.

The square is also home to several landmark buildings, such as the Electra Palace Hotel. This iconic hotel features stunning architecture and lavish interior decorations. In addition, visitors can check out the Orizontes Roof Garden and enjoy a spectacular waterfront view while dining or enjoying a cocktail.

The Olympion Theatre Cinema is another popular attraction. The neoclassical Olympion hosts the annual International Film Festival of Thessalonica. This film festival began in 1960 and facilities film viewers to discuss the chosen movies with film directors.
Aristotelous Square on Map
Walking Tours in Thessaloniki, Greece