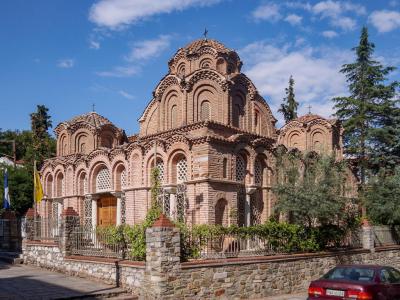 Ayia Katerini (Church of Saint Catherine), Thessaloniki
The Church of Saint Catherine is a late Byzantine church built in the 14th century. This beautiful church is a UNESCO World Heritage Site.

The Church of Saint Catherine has a tetrastyle cross-in-square floorplan. The church features an ascending series of roofs. It features a seven-sided central dome with four small cupolas. The elegant church has blind arcades, half-columns, and decorative brickwork. A marble cornice divides the church vertically.

Like many of Thessaloniki's churches, the Church of Saint Catherine was converted into a mosque during Ottoman rule. The mosque was known as Yakup Pasha Mosque. Unfortunately, historians have not uncovered the church's original name before Ottoman rule.

The church has fragments of original wall paintings from the 14th century. The paintings feature vibrant colors and are similar to the Church of Hagios Nikolaos Orphanos. The wall paintings depict the Communion of the Apostles, prophets, angels, and the Miracles of Christ.
Ayia Katerini (Church of Saint Catherine) on Map
Walking Tours in Thessaloniki, Greece