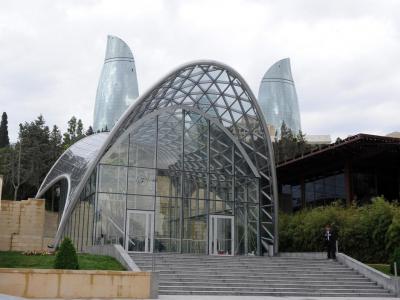 Baku Funicular, Baku
The Baku Funicular is a funicular that connects Neftchilar Avenue to Martyrs' Lane. It has a 1,493-foot track with two coaches. The funicular transports about 2000 people per day. This is the only funicular in Azerbaijan.

The funicular was built under orders by Baku mayor Alish Lambaranski. Work on the funicular was completed in 1960 but required regular repairs. The funicular finally shut down in the 1980s due to lack of maintenance.

Repairs took place in 2001, which allowed the funicular to reopen. Yet another complete overhaul of the system occurred in 2012. It has been in continuous working order since the last redesign.

Riding the funicular gives tourists excellent views of the city. They can admire Baku Boulevard, the Flame Towers and the Caspian Sea from the comfort of the retro coach. The funicular runs daily from 10 AM to 10 PM with only a 10-minute wait between coaches.
Walking Tours in Baku, Azerbaijan