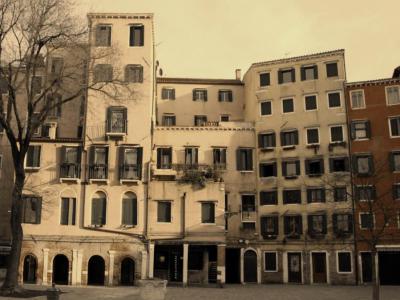 Banco Rosso (Red Bank), Venice
In medieval Europe, Jewish individuals faced limited options for livelihood due to societal restrictions. They were often confined to specific trades, such as dealing in used cloth, practicing medicine (doctors were the only people allowed out of the Ghetto at night), and engaging in money lending. The latter role became significant as Christians were forbidden by the Church to lend money at interest, creating a void that Jewish communities filled by offering cash loans.

Venice, in particular, had three banks distinguished by color: red, green, and black. These establishments were a combination of banks and pawnshops, where individuals could pledge an item in exchange for a loan. It is believed that these banks were among the earliest pawnshops in the world and operated until the end of the Venetian Republic in 1797. The intriguing nature of their commercial activities is even captured in William Shakespeare's renowned play, "The Merchant of Venice".

Today, visitors have the opportunity to explore one of these historic banks, known as the Red Bank ("Banco Roso"), which has been restored and is open for public viewing. The name "Red Bank" stems from the red receipt given to customers when they pawned an item. Interestingly, some speculate that the term "in the red", referring to financial indebtedness, may have originated from the practices of these ancient Venetian pawnbrokers.
Banco Rosso (Red Bank) on Map
Walking Tours in Venice, Italy
Useful Travel Guides for Planning Your Trip
--- 15 Distinctively Italian Things to Buy in Venice
Venice has been a tourist mecca for over a century now, with millions of visitors flocking in every year to see this unique place on the face of the Earth. Many, if not all, of these people seek to obtain something memorable as a token of their stay in this city. By far, not all of them know which...