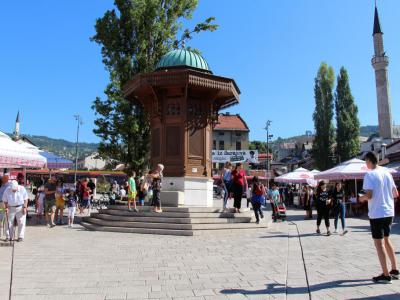 Baščaršija (Old Bazaar) and Sebilj Fountain, Sarajevo
(must see)
The Old Bazaar (Bascarsija) is the historical and cultural center of Sarajevo. It was built by Isa-Bey Ishakovic, the founder of Sarajevo, at the time the city was founded in the 15th century.

The first construction of the Old Bazaar was in 1462. An inn and several shops were built in the area. Mosques were also added, including the Gazi Husrev-beg Mosque, which was constructed in 1530. In addition to the Mosques, the Old Orthodox Church was established around 1539, and the Old Synagogue was built in 1587.

There are many important, historical buildings and structures in and around the Old Bazaar. Among these are the Gazi Husrev-beg Mosque and the Sebilj Fountain.

Sebilj Fountain is a symbol of Sarajevo. The Ottoman-style wooden fountain built by Mehmed Pasha Kukavica in 1753, was relocated by Austrian architect Alexander Wittek in 1891. Legend states that anyone who drinks from the Sebilj Fountain will return to Sarajevo.

The fountain is so famous that it has inspired numerous replicas around the world. There are copies of the Sebilj Fountain in Belgrade, Serbia; St. Louis, Missouri; Bursa, Turkey; and Rozaje, Montenegro.
Baščaršija (Old Bazaar) and Sebilj Fountain on Map
Walking Tours in Sarajevo, Bosnia-Herzegovina