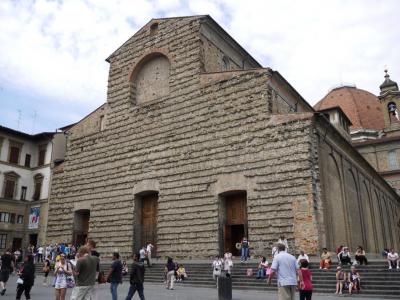 Basilica di San Lorenzo (Basilica of St. Lawrence), Florence
(must see)
Amidst the hustle-bustle of the Central Market ("Mercato Centrale") stands arguably one of the oldest churches in the history of Florence. San Lorenzo is said to date back to the late Roman era and is also the city's largest basilica. Inside, it is as ornate and magnificent as you'd expect for the main worship site and burial ground of the Medici family, despite the unfinished façade that belies its significance.

The influential Medici family, known as one of the most powerful dynasties in Florence's history, entrusted the brilliant architect Filippo Brunelleschi with the task of redesigning San Lorenzo in a modern Renaissance style. The esteemed Michelangelo, on the other hand, was charged with completing an elaborate marble façade. Sadly, the untimely demise of Brunelleschi and Giovanni di Bicci de' Medici resulted in the project's abandonment, leaving Michelangelo to bear the frustration of an unfulfilled vision. Nevertheless, he managed to create the internal façade, visible from the nave when gazing back towards the entrances.

Within the church's remarkable interiors, Renaissance aesthetics prevail, evident in the white and grey columns and the splendid marble embellishments adorning the altar, which serves as the resting place of the first Medici ruler. Along the central nave, visitors will encounter two bronze pulpits crafted by Donatello (his very last works), whose tomb can be found in the crypt along with that of Cosimo I de' Medici. The complex also encompasses the New Sacristy, a space that showcases Michelangelo's masterful Medici tombs, which depict the themes of day and night, dusk and dawn. Additionally, the Chapel of the Princes, dating back to the 17th century, captivates with its monumental dome and exquisite fresco arrangements.

There is an abundance of sights to behold, from the stunning frescoes that grace the walls to the enchanting dome adorned with lovely artwork. Exploring the various cloisters, intimate gardens, and the Laurentian Library—another architectural marvel attributed to Michelangelo—will undoubtedly transport you into a realm of serenity, offering a tranquil respite from the bustling tourist attractions that characterize Florence.

Tip:
Different sections of the church have separate entrances, and it is necessary to present your Florence Card or pay for each section individually. Please note that the Chapel of the Princes and the New Sacristy, housing Michelangelo's tombs, close after 1:30pm.
Take advantage of the lovely market area surrounding San Lorenzo, and consider enjoying a refreshing drink or meal in the picturesque square in front of the Central Market.
Basilica di San Lorenzo (Basilica of St. Lawrence) on Map
Walking Tours in Florence, Italy
Useful Travel Guides for Planning Your Trip
---