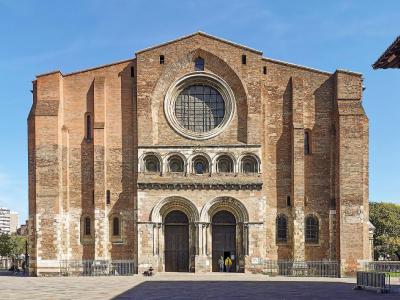 Basilica of Saint Sernin, Toulouse
(must see)
Prominent on UNESCO's list of World Heritage Sites is the Basilica of Saint Sernin in Toulouse. The church is on the site of an earlier basilica dating from the fourth century. This older Basilica may have had the bones of Saint Sernin, the first Bishop of Toulouse.

The basilica was built in the Romanesque style in the early 12th century. It was a favorite stop for pilgrims on their way to Santiago de Compostela and even a pilgrimage destination in itself. Construction continued over the centuries with many fits and starts. It is estimated to have been at least four major building undertakings.

Viewed from outside, the bell tower over the transept is the most prominent aspect. It is divided into five tiers. The lower three tiers have Romanesque arches and date from the 12th century. The upper two tiers have pointed Gothic arches from the 13th century. There are two doorways to the Basilica, the Comtes Gate and the Miegeville Gate.

On the Comtes Gate is a scene of Lazarus and Dives. Poor Dives is shown in Hell. Above the Miegeville Gate is sculpture of the ascending Christ. The interior of the Basilica is enormous for a Romanesque church. The nave and the aisles are vaulted with buttresses. Below the transept is a marble altar, consecrated in 1096.

In the middle ages churches were equipped with small chapels in the apse. These chapels would hold relics of interest to the pilgrims who were continually filtering in. The pilgrims could gather at the chapels on the sides of the church without disturbing services in progress. In Saint Sernin's there are nine radiating chapels housing relics.

Why you should visit
To see the reemerging of Cathedrals and shrines throughout the centuries is to witness the no-surrender spirit of the Occitan civilization.

Tips
Generally there is no admission charged but donations are welcome.
Basilica of Saint Sernin on Map
Walking Tours in Toulouse, France
Useful Travel Guides for Planning Your Trip
--- Pub Crawl of Toulouse
There are some really great little pubs in Toulouse. This guide helps you find a few of the local favourites, one pint after the other. Discover good craic at Mulligans and The Killarney; be amazed at what's on tap at Bar l'Ancienne Belgique and Bar La Tireuse; and put the English back in...