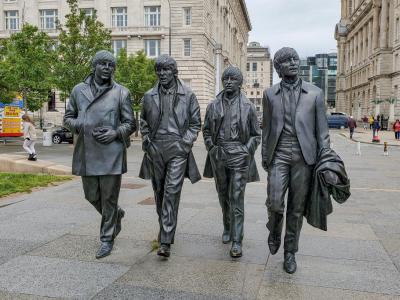 Beatles Statues, Liverpool
(must see)
This larger than life statue of the Beatles, located right in front of the Liver Building on the Waterfront, is a great place for a photo stop for the Beatles fans. If looked at closely, each member of the band displays a small personal detail.

- Paul McCartney carries a camera on his back, which may be a subtle hint to his relationship with Linda Eastman.
- John Lennon has two acorns in his hand. Yoko Ono and John Lennon planted two acorns in the garden of Coventry Cathedral in 1968 as their wish for world peace.
- Ringo Starr's boot has the number '8' on it, which may be the size of the shoes he wears.
- George Harrison has Sanskrit written on his belt.

The Beatles statue is the city's most popular selfie spot!
Walking Tours in Liverpool, England