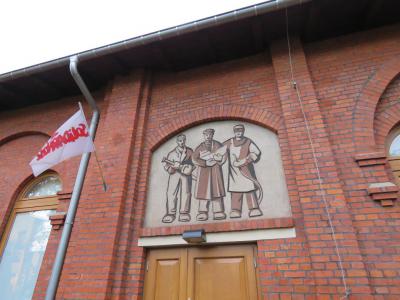 BHP Hall, Gdansk
Sala BHP, or BHP Hall, made history on August 31, 1980 as the place where the pivotal Gdańsk (aka August) Agreements were reached, laying foundation for the independent and self-governing Solidarność movement in Poland.

This monumental edifice was erected at the turn of the 20th century as part of what was then the Kaiserliche Werft Danzig (Imperial Shipyard of Danzig). Completed in 1902, it incorporates a two-story administrative section and a ground-level storage area, which today houses the historic Great Hall.

Initially, the facility served the military needs of Prussia and later the Third Reich, and was used as a torpedo storage and assembly plant for the armament of warships. Due to its original function, the place is also known as the Gdańsk Shipyard Torpedo Hall; a historical inscription to this effect is on the north-east facade.

Military production on the site ceased in the spring of 1945. After a fire on December 13, 1961, in which 22 workers died, the building was dedicated to occupational safety training and has since been called Sala BHP (Bezpieczeństwo i higiena pracy - Occupational Health and Safety). In 1979, there were a conference hall and a museum established on the premises.

In August 1980, the Hall accommodated the Inter-Enterprise Strike Committee (MKS – 'Międzyzakładowy Komitet Strajkowy') and hosted negotiations between the MKS and the Polish government.

In 1999, together with Plac Solidarności, the building was officially listed as a historic monument. In December 2004, the Hall was taken over by the Independent Self-Governing Trade Union "Solidarity". The present museum was established in 2010.

The presidium table (comprising a number of smaller tables, each measuring 200 x 88 cm, made in the carpentry shop of the Gdańsk Shipyard) at which the Inter-Enterprise Strike Committee was sat is carefully preserved and on display. There is also the exposition called "Solidarity" - Ways to the agreement".
Sight description based on Wikipedia.
Walking Tours in Gdansk, Poland