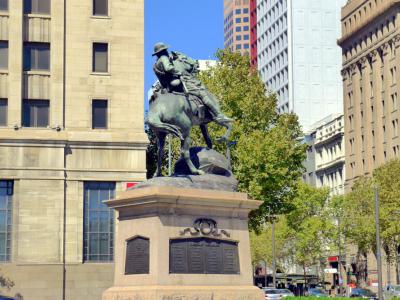 Boer War Memorial, Adelaide
The South African War Memorial (also known as the Boer War Memorial or, prior to 1931, the National War Memorial) is an equestrian memorial dedicated to the South Australians who served in the Second Boer War from 1899 to 1902. It was the first war in which South Australians fought; in total 1531 men saw action, 59 of them died. On each side of the 12-foot granite pedestal is a bronze plaque with the names of 59 South Australians killed in the conflict.

The pedestal was made from granite quarried from the nearby town of Murray Bridge. The construction budget of £2,500 was raised through public donations, and the design was done by the London-based sculptor Adrian Jones. While the statue itself was not intended to represent any particular soldier, there is evidence suggesting that the head of the rider was based on that of George Henry Goodall, a South Australian veteran of the Second Boer War.

Jones, who needed advice in regard to the accoutrements and attitude of Australian soldiers, consulted Goodall, who at the time served as Regimental Quartermaster Sergeant with the Australian Corps engaged in London at the coronation ceremonies for King Edward VII. A photograph of Mr Goodall, taken in 1902, indicates a strong facial likeness with the statue. Still, Goodall, who only posed for the head, insisted that his selection as a model was not based on any outstanding merit as a soldier.

Unveiled by the Governor of South Australia, George Le Hunte, on 6 June 1904, the monument has since become one of the focal points for the Anzac day marches, as well as being regarded as one of the most "eye-catching" and significant statues in the city. As such, it was added to the national heritage listing in 1990.
Sight description based on Wikipedia.
Walking Tours in Adelaide, Australia