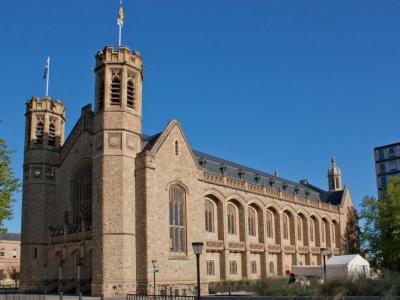 Bonython Hall, Adelaide
Bonython Hall is the University of Adelaide's main ceremonial hall. It was constructed in 1936 from a design by architect Woods Bagot in the Gothic architectural style. The beautiful and imposing building is used for graduation events, puclic lectures and special ceremonies.

Bonython Hall was made to look as though it had been in place for many years. To acquire this feat, Bagot used Murray Bridge limestone and slate roof that was quarried from Willunga.

The building was named in honor of Sir John Langdon Bonython who donated the funds to construct the building. Bonython was a member of the Australian Parliament and a well-known journalist and editor. It is said that Bonython donated the funds on the condition that it be built opposite Pulteney Street in order to prevent a thoroughfare from being built that might divide the university campus.

It is also rumored that Bonython required the building be constructed with a sloping floor in order to avoid any dancing. The Bonython family were very conservative and did not want the building used as a dance hall.
Walking Tours in Adelaide, Australia